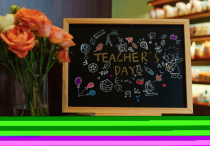 "A teacher affects eternity; he can never tell where his influence stops." – Henry B. Adams
Regardless of how old you or your child are, there is no denying that the influence of a great teacher can make a world of difference. Undoubtedly one of the noblest professions, educators toil day and night, providing students with a passport to the future and preparing them for tomorrow. And with Teacher's Day just around the corner, we want to make sure you're all set to show your appreciation to those teachers who have made a huge difference to you or your children. Whether you are an alumnus returning to school on this special day or you are looking for a unique Teacher's Day present that your little one can gift to show their gratitude towards their lovely educators, we have you covered with a list of gift ideas to make this Teacher's Day a memorable one for the real influencers in our lives. 
Teacher's Day Gift-Giving Etiquette
Before we dive into the ultimate gift guide that will surely put a smile on your teacher's face and make the rest of the academic year a great one for them, there are a few gift-giving etiquettes to take note of. While it is common for gift guidelines to vary from school to school, it is standard practice according to the Professional Conduct for Educators for all teachers to declare any gifts that are worth more than a specific amount to the Ministry of Education. Any other gift has to be declared to the school. While it might seem like teachers are simply not allowed to accept gifts personally given to them by students and parents, that does not mean that you cannot present them with a satisfactory one to express your appreciation. 
Teacher's Day Gifts to Consider
Being a teacher is no easy task, especially with all the responsibilities that they naturally have to bear. To keep your or your child's dedicated teacher motivated and convey your thankfulness for inspiring everyone in school, gifting them a unique Teacher's Day present that creates long-lasting fond memories is always the go-to. From handmade gifts that aptly express your gratitude to a personalised Teacher's Day gift, there is a vast array of thoughtful presents to choose from that go beyond the typical red pens. So why not surprise your educators with BearloonSG's curated collection of Teacher's Day gift options that are sure to brighten up their day come the 2nd of September!
1. Bloom Box Filled with Flowers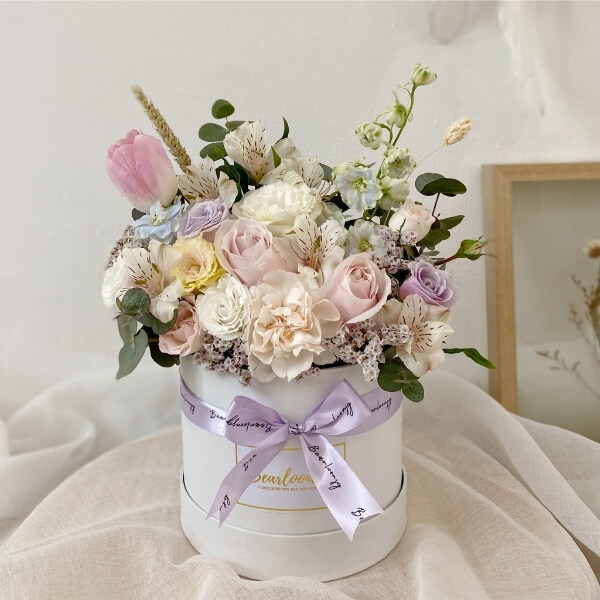 Source: BearloonSG – Pastel Dream Bloom Box

While many might see the gifting of flowers as a romantic gesture, presenting anyone in your life with a bouquet of flowers is a sure-fire way to let them know that you are genuinely thankful for their actions or presence in your life. But rather than carrying a large bouquet of flowers, why not opt for a convenient Floral Bloom Box like the Pastel Dream Bloom Box? Packed to the brim with fresh flowers that boast a muted hue, this delicate yet sophisticated flowers in a box arrangement will make a stylish addition to your teacher's table. If you'd like, you can also draft your own words of appreciation on the complimentary message card. Looking for something that will last forever just like the gratefulness you feel? The flower arrangements from our Everlasting Series would be just as aesthetically pleasing on the teacher's desk and serve as a constant reminder that their hard work and effort have not gone unnoticed.    
2. Unique Gift Hampers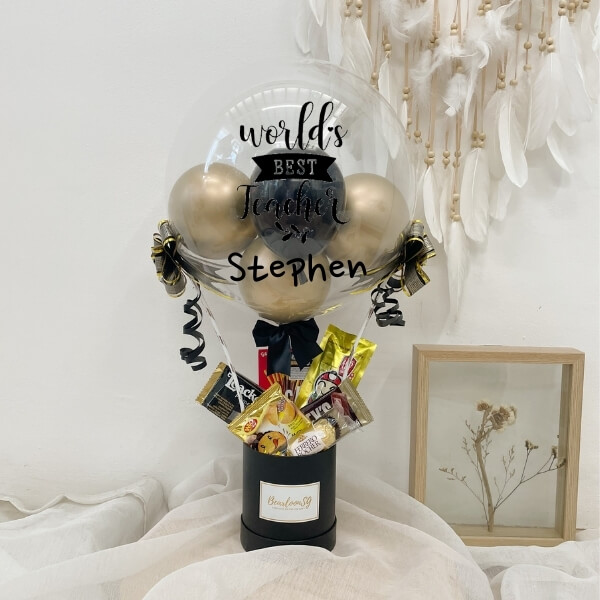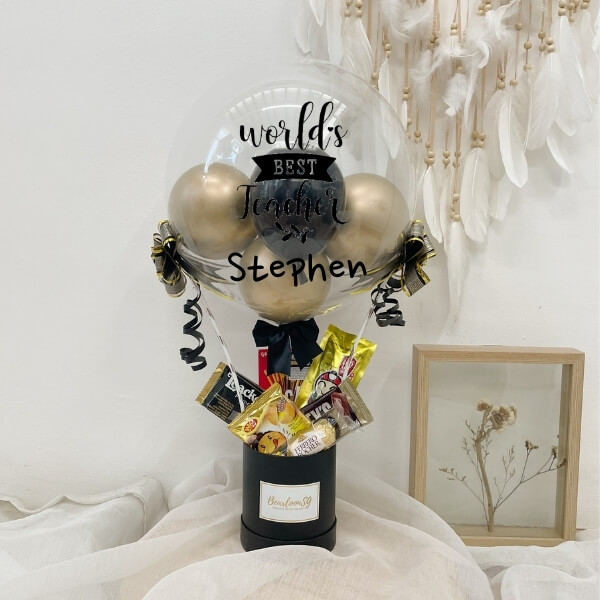 Source: BearloonSG – Black Snack Box Hot Air Balloon
Gift hampers are perfect for any occasion, and this includes Teacher's Day. And since the typical gift hampers filled with premium items like wine and champagne may not be a feasible option for teachers given the restrictions, going for unique gift hampers like a gourmet food hamper just might be the safest choice. With sweet treats like chocolates and chips stuffed into a chic box, the addition of a customisable crystal clear helium balloon as seen in the Black Snack Box Hot Air Balloon not only makes for an artful combination but also serve as the perfect stress reliever. If you are looking for something beyond food hampers, the Pink Marble Lifestyle Hamper that comes with a gold rim glass mug, tumbler and more, will make a practical and useful everyday gift. For a gift hamper that directly conveys your care and concern for your teacher, you could also consider organic hampers that contain healthy foods like organic raw honey and kombucha – the best gifts for teachers who are embarking on their own health journey. 
3. Blooms and Balloons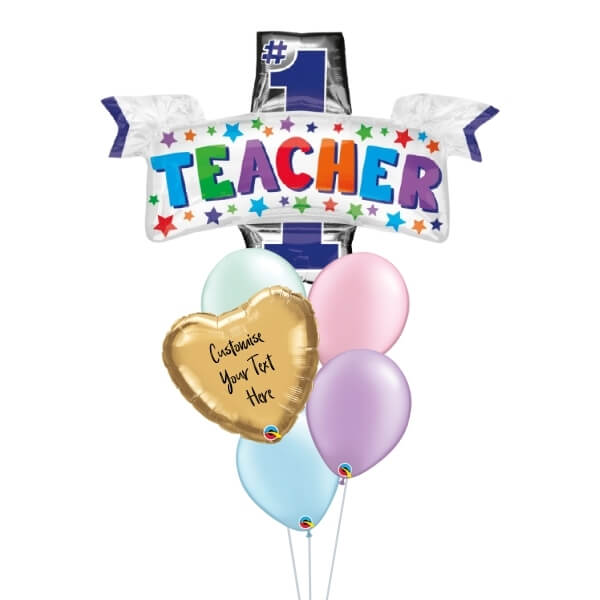 Source: BearloonSG – Number 1 Teacher Personalised Balloon Bouquet
Have a tight budget but would like to make a grand gesture? For something over-the-top and perhaps completely one-of-a-kind, go for the classic blooms and balloons combination. You can pair personalised balloons like the You're My World – Gold or Number 1 Teacher Personalised Balloon Bouquet with flower arrangements like the Pretty in Pink Bloom Box that will surely be a mood lifter with their bright and vibrant colours. Alternatively, to go all out with the extravagance, you could opt for a customisable Floral Hot Air Balloon that comes in three sizes – petite, regular, and jumbo. Choose the colour of the box, the flower colour palette, floral preferences, and the text you would like to have printed on the magnificent hot air balloon. Throw in a cute message and leverage add-on options like LED lights and all eyes will most definitely be on your teacher – for a good reason, of course.  
Make Teacher's Day Special With BearloonSG
When searching for the best Teacher's Day gifts, be it online or in-store, just remember that it is always the thought that counts. After all, actions do speak louder than words, and no one will understand this better than teachers. Having put in the time and effort to pick out the most ideal Teacher's Day present will speak volumes and have your educators feel appreciated. To best express your appreciation for your or your child's teacher, browse through BearloonSG's extensive collection of Teacher's Day gifts readily available online. We also offer same-day islandwide delivery for all our gifts. Be it flowers in a box or healthy organic food hampers, leave it to us to have your gifts delivered to you in Singapore just in time for you to personally hand them to the teacher who has changed your life for the better.