If there's a gift that's suitable for all occasions, it's a gift hamper. While the idea of sending a gift hamper can come across as a lack of effort or even run-of-the-mill, it doesn't have to be. The secret lies in selecting a hamper with items that are suited to your recipient's needs. This way, your recipient will certainly be delighted to receive your gift! With the added excitement and anticipation of discovering what's inside the hamper, a hamper is definitely one of the ideal gifts out there.
Keep reading to find out the various occasions where gifting a hamper would be appropriate.
1. Birthdays
Gift hampers make the perfect birthday gift for many good reasons. For one, they come in so many exciting variations, so it's easy to find one that's catered to the needs and preferences of your recipient. For example, if your recipient is a big fan of snacks and anything sweet, this Flower x Snacks Hamper is for them.
Source: BearloonSG
Packed to the brim with yummy goodies and adorned with a personalised hot air balloon and beautiful floral arrangement, this gift hamper will brighten any recipient's day!
Alternatively, if your recipient is in need of some practical items, consider this Unicorn Vanity Gift Hamper. Consisting of a variety of vanity items like a makeup brush set, sleeping mask, headband, hairbrush and more, this hamper will definitely be a helpful addition to your recipient's vanity area!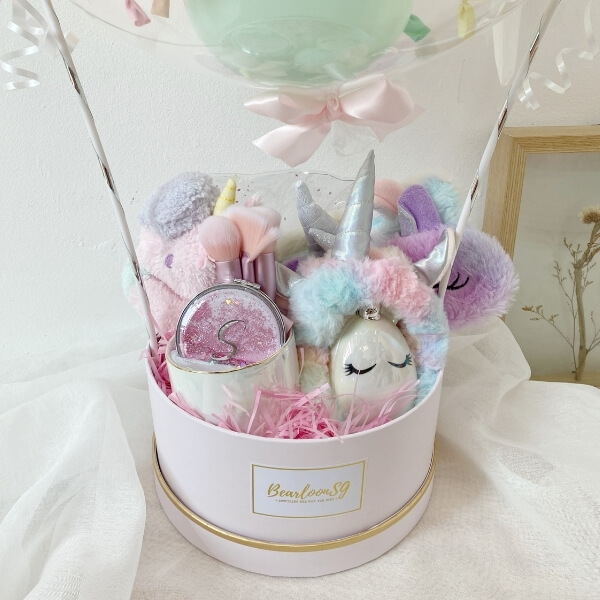 Source: BearloonSG
What's more, these vanity items come in gorgeous shades of a unicorn – certainly not your typical everyday items!
2. Baby showers
Do you know of someone who has just become a new parent, or will you be attending a baby shower? Sending a gift hamper will be a thoughtful gesture for the new parents. After all, they're entering a new stage of life and will probably need some support to adapt to this major change.
Consider gifting a Newborn Hamper that comes with baby essentials like a personalised romper, swaddling muslin, plushie, rattle and more! Now, this is one gift that we know new parents will appreciate – you won't have to worry about your gift being redundant or worse, left forgotten in a corner after the baby shower.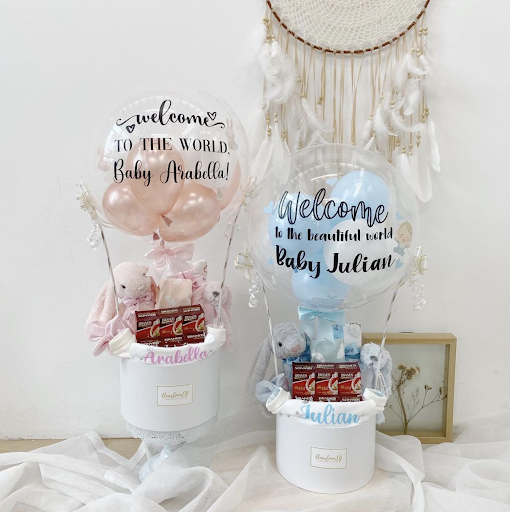 Source: BearloonSG
If you'd like to go one step further and let the new parents know that you're there for them every step of the way, consider opting for the birdnest or chicken essence variation. This thoughtful touch will surely warm your recipients' hearts!
3. Business
Sending a thoughtful gift to a client or business partner is always a good way to show your appreciation and strengthen your partnership. Keep track of significant dates like birthdays, contract renewals and holidays, and consider sending across a gift hamper aligned with the occasion.
For example, if you will be celebrating a contract anniversary with your business partner, this Moët Floral Hot Air Balloon Hamper will make a great gift.
Source: BearloonSG
After all, there's no better to make a toast to a prosperous partnership than with some delicious wine!
4. Get well soon
If you know of someone who's not feeling too well and needs a pick-me-up, you won't go wrong with sending across a get-well-soon hamper. Being sick is tough, so why not light up your recipient's day with some positive vibes?
Source: BearloonSG
Wish your recipient a speedy recovery with this Jumbo Organic Hamper. Packed with nutritious, organic goodness like green tea, fruit crisps, granola bars and oatmeal, your recipient will be feeling better in no time!
Feeling inspired yet? Browse BearloonSG's catalogue for more unique gift hamper ideas. Enjoy complimentary same-day delivery and many unique customisation options when you shop for flower hampers, personalised helium balloons and more with BearloonSG.