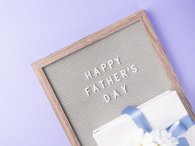 Father's Day is just around the corner, and that means pulling all the stops as you did for Mother's Day. There is no denying that finding a one-of-a-kind gift for dad can be a challenge. While gifts like a shiny new mobile phone or a new tie tend to be the safest choice, there are a range of other ways to get dad's approving nod. Whether your dad is a beer enthusiast or simply enjoys spending quality time with his family, BearloonSG has got you covered with our list of the best Father's Day gift ideas that are sure to put a smile on his face come the 19th of June!
1. Have a Feast
It is said that the way to a man's heart is through his stomach. So why not host a Father's Day dinner to make him feel appreciated? Regardless of whether you are a skilled chef or a total newbie in the kitchen, try whipping up a mean meal that the whole family can enjoy together at the dinner table. If you have limited time on your hands, there are always food delivery services readily available! So stress not, because when it comes to gifting your dad this Father's Day, it's the thought that counts. 
2. Never Go Wrong with a Modern Gift Hamper
Hampers are known to be the gift that keeps giving. While there may be several tips on how to choose the best gift hamper for specific occasions, you can never go wrong with a unique gift hamper that leans into the sentiment of the holiday. This Father's Day, BearloonSG offers a range of Father's Day gifts, including gift hampers, that will surely switch things up from the typical box of chocolates.
1. Beer Hampers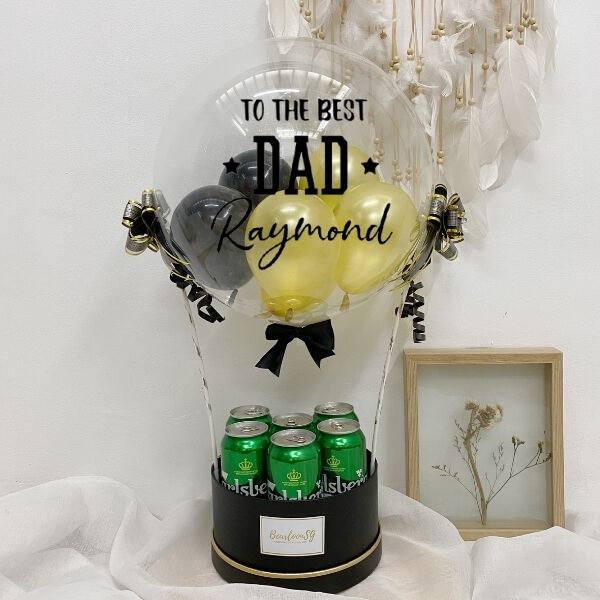 Does your dad love chilling and enjoying his favourite tipple over the weekends? Then BearloonSG's range of beer and wine hampers is sure to suit his fancy. From the Tiger Beer to the Carlsberg Hot Air Balloon hamper, gift your dad 7 cans of his favourite alcoholic beverage, and pair it with a customisable hot air balloon. If your dad is more of a wine connoisseur, fret not! Our wine floral hot air balloons combine the sophistication of wine with flowers so that Father's Day becomes a classy affair in your household.
2. Gourmet Hampers
Gourmet food hampers are equally as cool as they are thoughtful, especially if your dad has a sweet tooth. Loaded with treats and snacks, these Father's Day gift hampers offer you the opportunity to get creative with the packaging too! Choose your dad's favourite colour for the box and add a personalised message for a personal touch. Not to forget the customisable hot air balloons that can be designed according to a specific theme. Place your orders 3 business days before the delivery date and you'll be able to receive a digital mock-up before our design team starts working their magic. 
3. Cash Reveal Box
Does putting a twist to ang bao traditions sound like something your dad will fall head over heels for? Take things up a notch this Father's Day and gift him a Cash Reveal Box. Featuring a transparent hot air balloon filled with mini balloons, this unique gift hamper hides an unexpected surprise of SGD100 cash – that's sure to send him over the moon.
3. Watch a Classic Family Flick
Have a movie buff dad? Grab your popcorn and sit him down for a movie night at home. From the Pursuit of Happiness to The Game Plan, there are loads of family flicks to catch. Better yet, ask him about his favourite shows and pick a couple to watch with the whole family. 
4. Plan a Celebration
Who said Father's Day can't be celebrated like birthdays? Plan an epic celebration with family and friends, and throw in a couple of decorative elements to get the party started. At BearloonSG, we have all your party essentials covered. Whether you need party balloons, customisable hot air balloons, or even flowers, we have your back when it comes to everything blooms and balloons. Moreover, our selection of Father's Day Helium Balloons are readily themed for this special day. Simply place your orders before 2.30PM, and we'll deliver all your must-haves on the same day for free!
5. Spend Quality Time with Him
Is quality time your dad's love language? If that is the case, then nothing will beat expressing your gratefulness, love and affection with your undivided attention this Father's Day. Get your gifts in advance and plan all the surprises you may have up your sleeves, but when dad is there with you on this special day, be intentional in setting aside time for him. You could also plan a game night with your family, or make things personal by having deep conversations. If you'd both like to have a meal together, you could even propose cooking it together instead of having takeout. 
Make Father's Day Special With BearloonSG
Fathers may say that they do not want anything special for Father's Day, but for the men who have taught us to celebrate the people that matter most to us,  it's high time we showered them with these unique gifts. Turn your Father's Day celebration into something special with BearloonSG today, and make memories that are sure to last a lifetime.