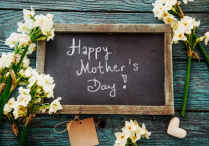 Mother's Day is a great opportunity to show your love and care for your mum or the mother figures in your life. This Mother's Day, BearloonSG is offering a wide range of Mother's Day gifts that will make her day even more special as you show your heartfelt love. Here are 5 unique gift ideas any Singaporean mother will appreciate.
1. Unique Gift Hampers For Your Mother
Bird Nest Floral Hamper
Source: BearloonSG
Flowers are always a welcome gift for any occasion but why not throw in a surprise twist? Give your mum a special flower hamper on Mother's Day with a Bird Nest Floral Hamper. Apart from fresh florals, this gift also comes with a nourishing bird's nest drink, which will surely put a smile on mum's face. 
Mother's Day Premium Hamper
Source: BearloonSG
The Mother's Day Premium Hamper is an outstanding gift hamper consisting of plenty of sweet items. If your mum is a fan of artisanal coffee, farmhouse sweet biscuits, cheese seeded flatbread crackers, and baked goodies, the Mother's Day Premium Hamper will make the perfect gift. Simply fill in the required details to customise it according to your mother's taste and preferences, and enjoy islandwide free flower hamper delivery to her doorstep (terms and conditions apply).
Kinohimitsu Tonic Hamper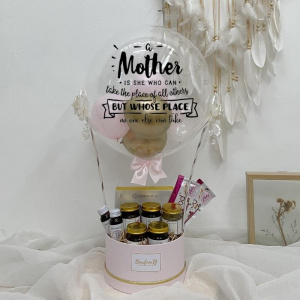 Source: BearloonSG
This hamper; an elegant way to surprise your mum with a couple of fresh flowers, a personalised text message on a balloon, and a range of many Kinohimitsu tonic products. The Kinohimitsu Tonic Hamper is a thoughtful gift for your mother and reflects your wishes for her to stay healthy and strong for a long time. With nourishing items like bird's nest, collagen and chicken essence, superfood packet, and detox ginger tea, it is the perfect gift to keep your mum feeling hale and healthy.
2. Surprise Bloom Boxes
Eomeoni Floral Glass House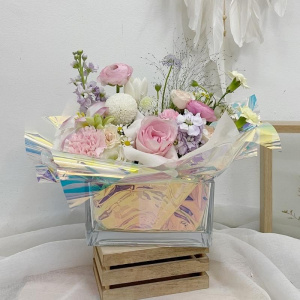 Source: BearloonSG
Nothing is more special than gifting a floral glass house with delicate, refreshing flowers in vibrant colours. Give your mum a pleasant surprise with an Eomeoni Floral Glass House consisting of vibrant florals that signify the warmth and comfort of a mother's love. Customise the floral glass with your favourite flower's colour palette and pen down a loving message to create a lasting memory.
Unique Floral Bloom Boxes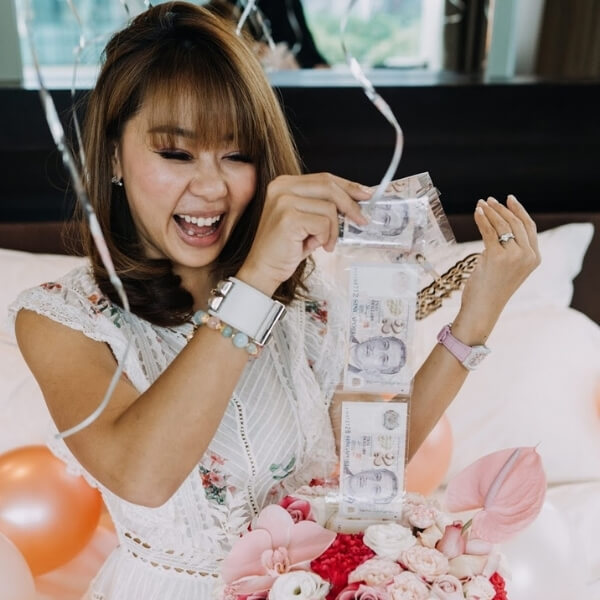 Source: BearloonSG
Make this mother's day special for your mum with pretty Floral Bloom Boxes that come with special surprises like a Moscato, Perfume or even a Money Pulling Bloom Box! Explore other unique and unconventional floral bloom boxes with BearloonSG like the Chloe Perfume Bloom Box, Sweet Pastel, Deepest Affection Bloom Box and more.  You also have the option to indicate your mum's favourite flowers and include a personalised message to add your personal touch to the gift.
3. Hot Air Balloons
Money Hot Air Balloon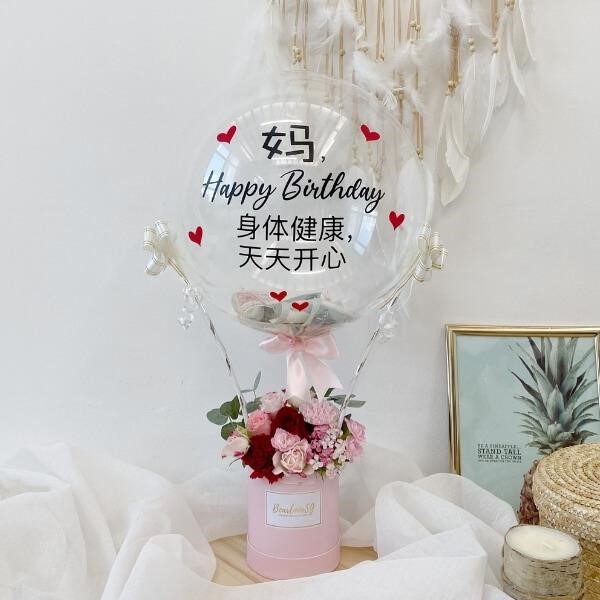 Source: BearloonSG
Let your mum know how special she is to you with our Money Hot Air Balloon. This fun yet practical gift is sure to surprise your mum and brighten her day. It's a creative way to give thanks for all she's done for you over the years, and she can use the money in the balloon for a special Mother's Day treat! 
4. Cash Reveal Box
Cash Reveal Box (Feathers Themed)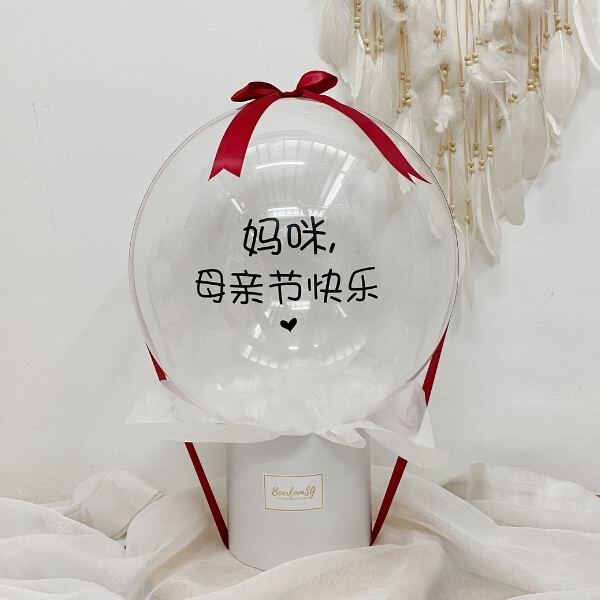 Source: BearloonSG
If your mum is not a fan of flowers, no worries – consider gifting this Cash Reveal Box With Feathers instead. Featuring a transparent hot air balloon filled with pastel pink feathers and adorned with a matching ribbon, this gift looks like any other hamper but hides an unexpected surprise. Just imagine the look on her face when she realises what it contains!  
5. Floral Surprise Box
Black Floral Ferrero Rocher Surprise Box
Source: BearloonSG
If roses and chocolates are your mum's favourite things, the Black Floral Ferrero Rocher Surprise Box is the perfect choice for your mum this Mother's Day. Express your love in a unique way with this floral surprise box and make your mum's day.
Make Your Mother's Day Special With BearloonSG
All mothers love their children unconditionally her whole life. This Mother's Day, it's your turn to shower your beloved mum with love with these unique Monther's Day gifts in Singapore. Be sure to order in time so that your precious gift will be delivered in time!