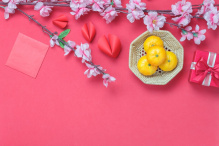 Chinese New Year is a time of giving and gratitude. With Chinese New Year just around the corner, it's time to consider picking a suitable gift for your clients, friends and family. If you are going visiting this CNY, bringing along a gift is a great way to wish your recipients a prosperous year ahead. For clients, sending a thoughtful gift their way allows you to show your appreciation for their support in the past year. It also helps to set off your partnership in the new year on the right note.
How to Pick the Right Chinese New Year Gift
As with gifting for any other occasion, the general rule is to consider your recipient and their preferences. For Chinese New Year, however, there is an additional set of gift-giving etiquette rules to keep in mind:
Colours matter. Red, gold and yellow are considered symbols of prosperity and wealth in the Chinese culture, so it's best to select a gift with those colours in mind. Conversely, white and black are associated with funerals and death, so please avoid these colours when choosing your gifts.
Numbers matter, too. In the Chinese culture, it's believed that good things come in pairs. So, do avoid gifting in odd numbers.
Now that you're aware of the important guidelines, it's time to select the gifts! Keep reading for unique gift ideas to consider this Chinese New Year.
1. Floral arrangements
Auspicious floral arrangements are one of the most popular gifts for Chinese New Year in Singapore. Featuring gorgeous blooms in vibrant colours, floral arrangements double up as lovely decor pieces that can liven up the mood at home.
Source: BearloonSG
There's also another reason why floral arrangements are the go-to when it comes to CNY gifting. Flowers in bloom symbolise growth, hope and good fortune after a long, bitter winter. So, you will not go wrong with gifting auspicious flowers if you're looking to wish someone a prosperous Chinese New Year! 
If your recipient prefers a more traditional gift, go for the Red Prosperity Willow. A classic CNY staple, the pussy willow symbolises growth and the coming of spring and prosperity. This floral arrangement is also available in pink.
Source: BearloonSG
Another floral arrangement to consider is the Flourishing Phalaenopsis. As a symbol of abundance, continuity and fertility, phalaenopsis orchids are believed to strengthen familial relationships and promote unity.
 Source: BearloonSG
If you prefer a red colour palette, you can also consider the other alternative of the Fortune Phalaenopsis!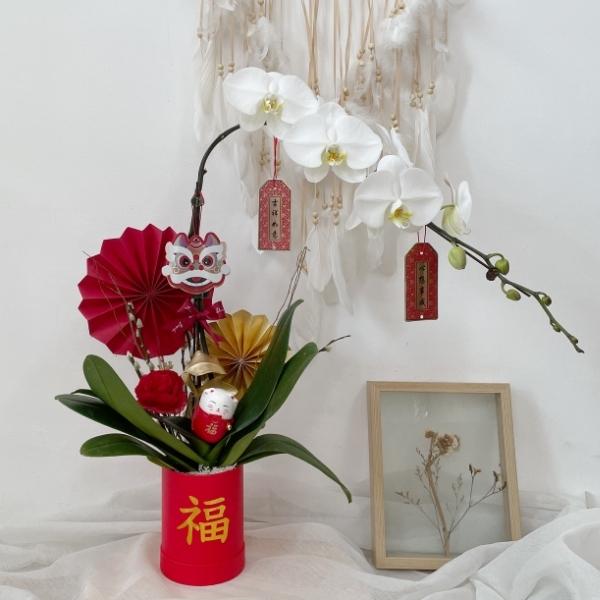 Source: BearloonSG
2. Hot air balloon hampers 
For a modern twist to CNY gifting, consider these hot air balloon floral hampers. Each floral hamper comes with a luscious bed of florals in auspicious colours like red and yellow and adorned with a hot air balloon in a variety of festive designs. Take your pick from eye-catching designs like the 3D Cai Shen Ye, 3D Fortune Cat and the 3D Prosperity Tiger – perfect for ushering in the Tiger year.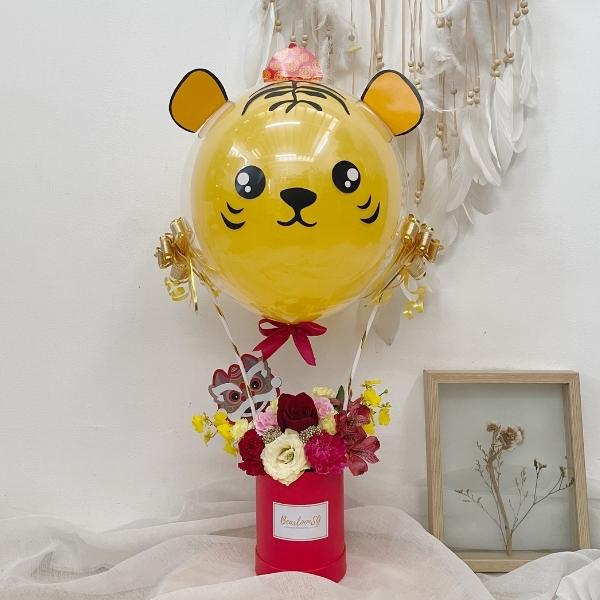 Source: BearloonSG
If you prefer to surprise your recipients with a scrumptious food hamper, consider these CNY Hampers instead. From Tiger King Yoshihama Abalone to Moscato wine to sweet treats, there's something for everyone. 
Source: BearloonSG
3. Helium balloons 
Finally, for a simple yet striking gift, go for these CNY helium balloons. Available in festive shapes and colours, these helium balloons are fully customisable. So, go ahead and craft your personalised well-wishes for your recipient!
Source: BearloonSG
If you're looking for ways to spruce up your home for the new year, consider getting some of these balloons to set the mood for Chinese New Year!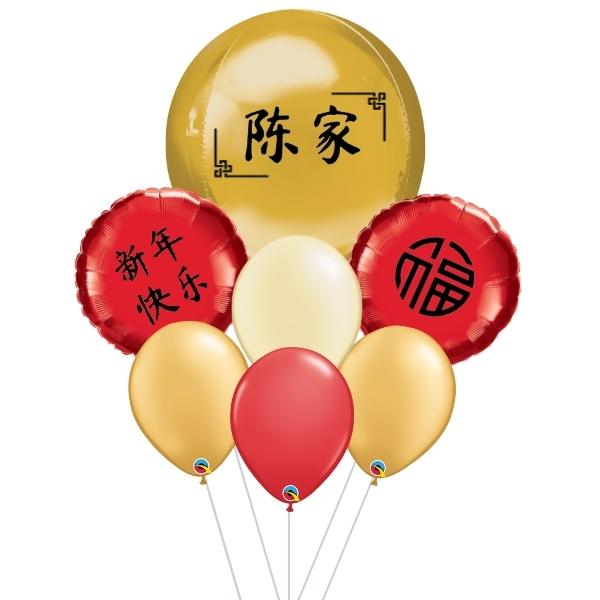 Source: BearloonSG
Feeling inspired yet? Browse BearloonSG's catalogue for more unique CNY gift ideas. Enjoy complimentary same-day delivery and many unique customisation options when you shop for flower hampers, personalised helium balloons and more with BearloonSG.