Balloons are pretty much a staple in celebrations, but it can be confusing when it comes to deciding which type of balloon works best for your event. Keep reading to find out the differences between foil and latex balloons, and how to go about deciding which type you need. 
1. Material
Firstly, let's talk about the material of each type of balloon. Foil balloons are made of Mylar, a polyester film made from stretched polyethylene terephthalate (PET). Even though it has a similar appearance to aluminium foil, it is much more flexible than foil and will not tear easily. Due to its high tensile strength and versatility, Mylar is also used in a variety of applications, including food packaging and equipment labels. 
On the other hand, latex balloons are made of latex, a combination of rubber and water. With exceptional flexibility, tear resistance and resilience, latex is also used to create a variety of other items, including surgical gloves, rubber bands, swim caps and more. 
2. Lasting ability 
One of the most significant differences between foil and latex balloons is their lasting ability. Foil balloons can stay inflated for an entire week, while standard latex balloons typically last for a day. Foil balloons are also less prone to popping as compared to latex balloons. 
If you're running a large-scale event that requires weeks of preparation, you're probably better off investing in foil balloons to make sure they stay inflated throughout the event. 
3. Shape 
Due to their elastic and malleable nature, latex balloons can come in various basic shapes, including heart, star, moon, circle – you name it. They can also be easily transformed into complex shapes like animals with some twisting. 
On the other hand, foil balloons are not malleable but come in all sorts of shapes and sizes. From cartoon characters to animals to food items, you can find foil balloons in practically any shape and form. 
4. Cost 
Foil balloons are typically pricier than latex ones, so if you wish to use them for your event, you will have to allow for a larger budget. Conversely, latex balloons are generally cheaper and are perfect for buying in bulk if you need many balloons for your event. 
You may also wish to check out BearloonSG for affordable helium-filled foil and latex balloons for your gifting or party needs.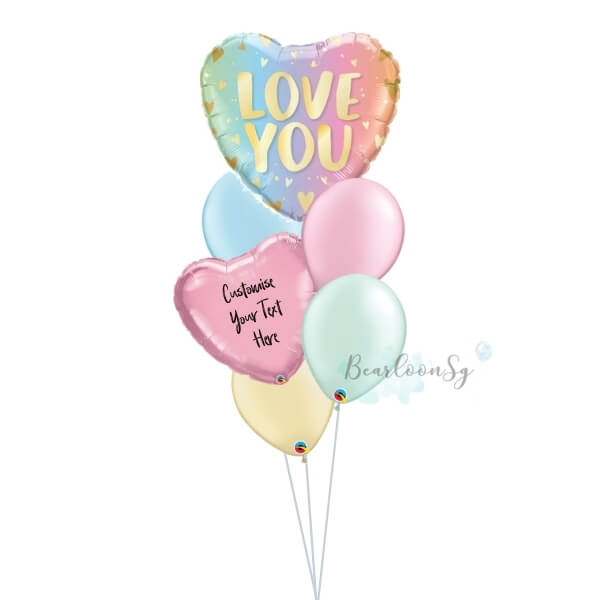 Source: BearloonSG
5. Biodegradability 
Finally, latex balloons are fully biodegradable and recyclable, while foil balloons are not. So, latex balloons may be a better choice if you are environmentally conscious. Alternatively, consider getting foil balloons in smaller quantities to minimise their environmental impact. 
So, which should I choose – foil or latex balloons? 
Whether you should choose foil balloons or latex balloons will depend on what you need them for. You will also want to consider other factors like the duration of your event, budget and if there are specific balloon shapes that you require. 
Generally, if you're looking to brighten up a venue with some vibrant colours, classic round latex balloons will do the trick. Consider getting some of these latex balloon clusters – available in a variety of colours from striking red to sweet pastel pinks and blues, you can definitely find something that's aligned with your colour theme. 
Foil balloons come with a unique metallic shine, so they make eye-catching decorations at events like birthdays and proposals. For example, if you're looking to spruce up your birthday party venue, consider investing in some number foil balloons to elevate your party decor. What's more, these foil balloons can double up as fun photo-taking props for your guests – certainly a must-have at any party or event! 
Feeling inspired yet? Shop BearloonSG now for more unique balloon gift ideas and enjoy complimentary same-day delivery!