Chinese New Year is the time of the year to show your appreciation and love toward your family and friends. Celebrating the start of a new lunar cycle and usually involving plenty of food, festive decorations, and gift-giving, it is undoubtedly a special holiday. While it might be customary for people to exchange gifts with their family, friends, and colleagues during this time, it is crucial to be familiar with traditional Chinese customs, etiquette, and the unspoken rules of gifting during this festive season. From choosing auspicious colours to the significance of gift value, we'll be covering all the basics of Chinese New Year gifting etiquette in this blog so that your gifts will be both meaningful and well-received!
1. Choose Auspicious Colours
When it comes to gifting during Chinese New Year, colours play a major role in conveying specific messages. As such, it is important to know what each colour represents. For example, red is known to bring luck, prosperity and joy in Chinese culture, while colours like white and black should be avoided at all costs since they are associated with unlucky events. Other colours like yellow, green and gold symbolise wealth and abundance and growth.
Source: BearloonSG – Good Wealth Hamper
Therefore, when choosing gifts, be sure to choose those that feature these "lucky" colours for maximum impact. At BearloonSG, we have a range of modern Chinese New Year hampers that feature bright red and gold flowers, prints and decorations. If you are looking for a Chinese New Year hamper that will stand out from the crowd, consider our Good Wealth Hamper which comes with a Hot Air Balloon that you can customise with your well wishes.
2. Stick to the Number 8
Another unspoken rule when it comes to gifting during Chinese New Year is avoiding the number 4. This is because, in Chinese culture, the number 4 is associated with bad luck due to its pronunciation which shares a similar sound with death. As an alternative, try sticking to the number 8 as it symbolises good fortune.
Source: BearloonSG – 3D Fortune Cat – Good Wealth Hamper
Our 3D Fortune Cat – Good Wealth Hamper makes for a great gift as it comes with eight types of goodies packed within the red box. Sure to bring good luck to any recipient this festive season, you can take things up a notch with this new year hamper by leveraging our LED lights add-on.
3. Go Big on Luxurious Gifts
Source: BearloonSG – 3D Fortune Cat – Golden Opportunities
During the festive period, it is customary to give luxurious gifts as a way to bless the recipient with abundance in wealth and fortune throughout the entire new year ahead! So, to bestow blessings of prosperity upon your recipient, why not gift them a beautiful Floral Bloom Box that is filled with luxury flower arrangements or a premium Lunar New Year hamper like the 3D Fortune Cat – Golden Opportunities that is packed with exclusive gifts such as a bottle of Moscato? Paired with Japanese Breed Tiger King Yoshihama Abalone, this Chinese New Year hamper will surely make an unforgettable impression on anyone.
4. Avoid Unlucky Symbols
When gifting during Chinese New Year, always think about the symbolism — this is especially so for elderly relatives or married couples. For instance, you should avoid symbols like clocks and umbrellas as they represent bad luck and sorrow. Sharp objects like knives and scissors should also be avoided as they represent the severance of relationships in Chinese culture. Instead, opt for something more fun and signifies comfort and harmony. This could take on the simplest form of a balloon bouquet or a magnificent rose bear.
5. Opt for Quality Over Quantity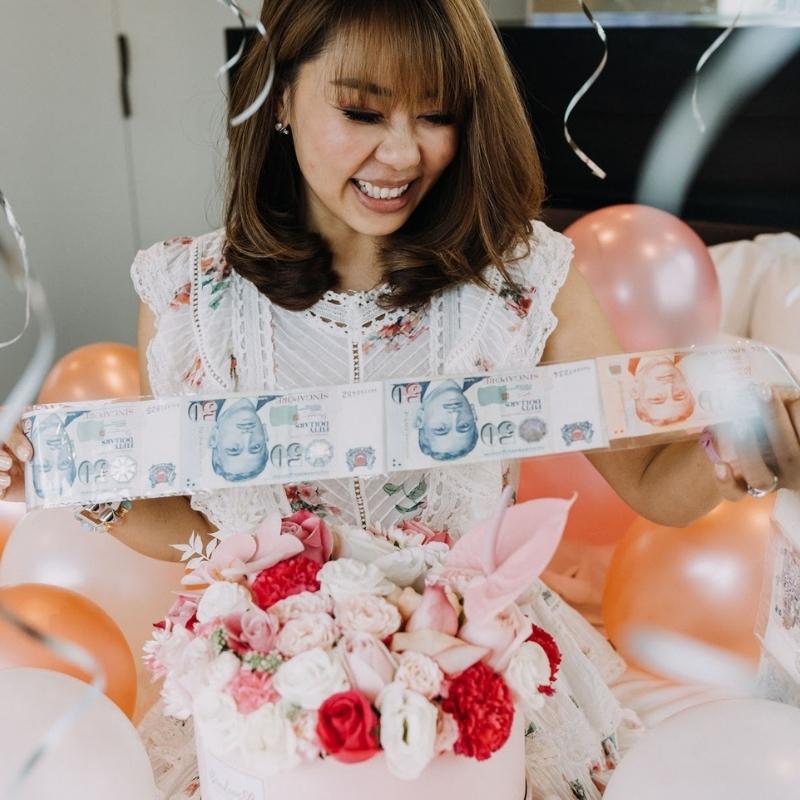 Source: BearloonSG – Money Pulling Bloom Box
Lastly, remember that quality matters more than quantity when it comes to gifting during Chinese New Year. Especially since most households receive several gifts each year, aim for something special that will be remembered long after the festivities end! You can even go for one of our Novelty Gift Hampers that includes our collection of Aesthetic Ang Bao hampers and Reveal Box Hampers. Forget those red packets, and give them a gift that symbolises wealth in the most unique way possible.
Ace Chinese New Year Gifting with BearloonSG
Gifting may seem intimidating at first but following the proper etiquette can make it much easier — especially when gifting during holidays such as Chinese New Year. Start shopping for your loved ones with confidence by browsing BearloonSG's selection of modern Chinese New Year hampers in Singapore. Enjoy our free same-day Chinese New Year hamper delivery services islandwide when you place your orders before 2.30PM and express your appreciation to your loved ones today! For inspiration on what to get, check out our guide to gifting for Chinese New Year!