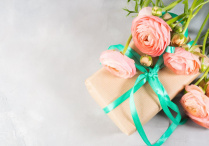 Flowers are considered to be the most expressive and romantic way of sending messages to the people you love. Whether you're picking out a beautiful bouquet of roses or an elaborate floral hamper, either will go a long way in showing love towards someone you know. If you want to express yourself in the most thoughtful way, here are the five situations where flower hampers might make an ideal gift in Singapore.
 1. To Appreciate Your Loved Ones
BearloonSG's Petite Red Roses & White Baby breaths Bloom Box
Send a beautiful gift like our unique Rose Bloom Boxes to someone you want to appreciate and let them know that you are thankful for their kindness, advice or just being around. Think of it this way: if someone gave a kind gesture to you, you'd want to return it! Sending someone flowers can be an act of kindness in itself, sending someone home with a smile on their face is priceless. Flower hampers say so much more than words can express, and are an amazing way to love and show appreciation for someone. 
2. To Congratulate Someone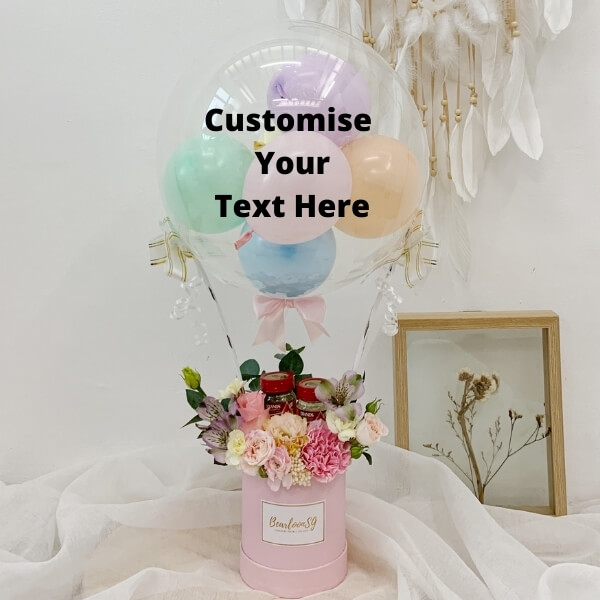 BearloonSG's Birdnest Floral Hamper
A congratulatory message with flowers is the perfect gift for a wide range of occasions. Whether you're congratulating someone on a new job or promotion, celebrating an anniversary, or sending flowers for a loved one's recovery from illness, there's no better way to convey your best wishes than with a beautiful bouquet of flowers. We have beautiful floral hampers and birthday flower hampers to help you surprise them with a thoughtful gift – complete with free same day delivery across Singapore* T&Cs applies! 
3. For Apologising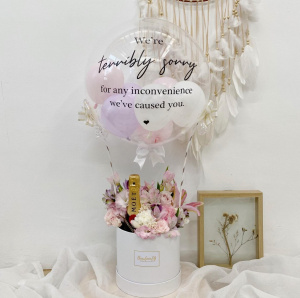 BearloonSG's Moët Floral Hot Air Balloon
Flowers are a great apology gift idea for both men and women and a floral hot air balloon is a great way to smooth things over when you've upset someone. Not only will the flowers and balloons brighten up the recipient's day, but they will also appreciate your effort in making amends. Your gesture might even be enough to restore their faith in you, and keep that beautiful friendship or relationship intact.
4. To Express Love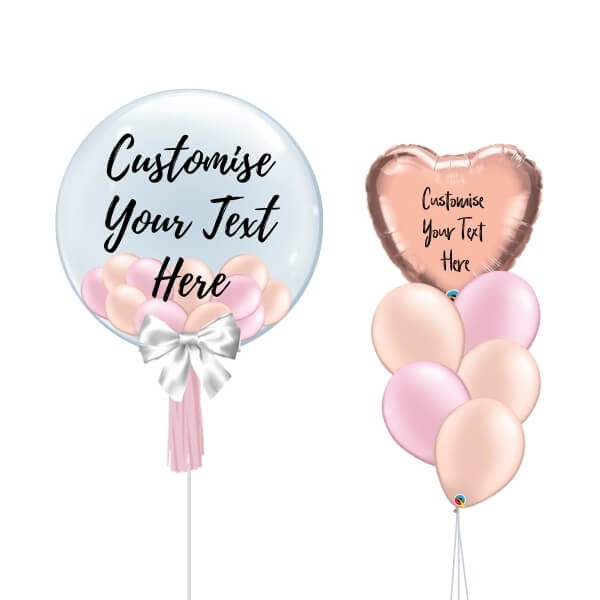 BearloonSG's Pink & Rose Gold Personalised Balloon & Foil Balloon
Flowers are a perfect way of expressing your love and making someone know that you care about them. They do not just have to be for the lovers and spouses, but for anyone important in your life, be it a parent, a sibling or a friend. When you send a bouquet of flowers or personalised balloons with someone's name who means a lot to you, it makes them feel special and they will be glad that you were thoughtful enough not to forget them even though they are not around you every day.
5. To Say Thanks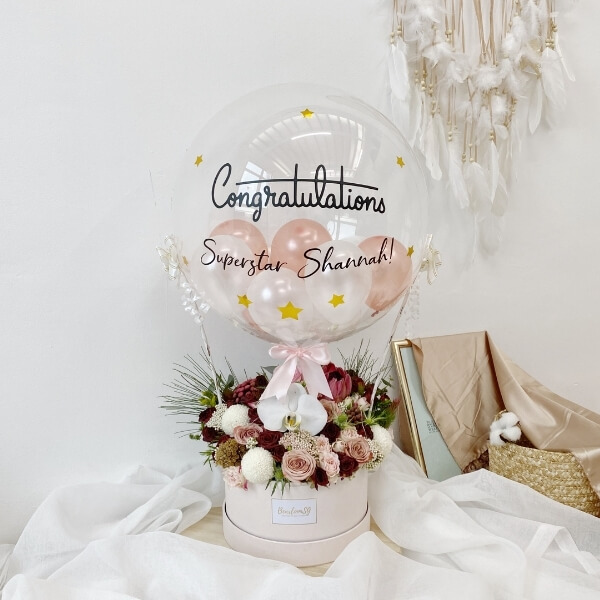 BearloonSG's Love Rosie Floral Hot Air Balloon
Whether you're showing appreciation for the people in your life or cheering up a friend or family member, flowers are a universal and unique way of saying "thank you". Even if you aren't the best at communicating what you mean, flowers always show your appreciation. A bouquet of flowers is as close as you can get to show your thankfulness, and we at BearloonSG believe that flowers make a deeper impact on the recipients than we know. That's why we have everyday flower boxes, and hot air balloon flowers to enhance the gifting experience.
Be sure to browse our catalogue for more unique gift hamper ideas. Enjoy complimentary same-day delivery and many unique customisation options when you shop for flower hampers, personalised helium balloons and more unique gifts with BearloonSG!