Anniversaries are an important part of every couple's life. An occasion to reflect on the good times spent together, this momentous event is always one worth celebrating. And, what better way to look back at all the years together and relive the love shared between you and your partner than to capture the passion you have in a gift? While standard gifts like a bouquet of flowers are the ultimate go-to and foolproof option amongst many couples, why not up the ante and celebrate hitting a milestone in your relationship with a flower hamper? Known as an ideal gift to send someone, flower hampers combine the best of both worlds – a floral bloom box and a customisable hot air balloon – making them great anniversary gifts too! But how do you create one that will impress your significant other? 
Fret not! We at BearloonSG have prepared a list of tips to help you choose an anniversary floral gift hamper that will bring a smile to your loved one's face.
1. Pick The Variety Of Flower
Source: BearloonSG – Pink Seashell Bloom Box (Customisation & Preference of Flowers available) 
Heard of the language of flowers? It is a widely known fact that each flower has its own unique, hidden meaning. Therefore, whether you're celebrating the first anniversary or 25th anniversary, choosing the right flowers will effectively relay the emotions and personal messages you wish to express. But what kind of flowers are best for anniversaries? This depends on your partner's personal preference and the memories that you both share. Perhaps there were specific blooms that were picked out for the bridal bouquet during your wedding? If there aren't any specific blooms that come to mind, pick classics like carnations and roses. At BearloonSG, we take things up a notch by providing you with the opportunity to inform us of your preferences. Be it the colour theme or the flowers you would like to have in your hamper, we will help design a flower hamper that will effectively convey your love.
2. Choose The Right Colour Combination
There are many types of anniversary flower hampers in different colours. Since each colour brings a new meaning to it, why not pick one that is apt for the occasion you are celebrating. From the colour of the florals to the box that will hold all the goodies, follow a theme to make your anniversary gift a sophisticated one. For example, flowers of deep red colour are a sign of passion and sincerity. They express deep feelings of affection and love at the same time. Also, you can go with soft pink and yellow flowers, mixed with white roses, which symbolise utmost admiration, and respect. Complement this with a box that is of a similar hue to complete the whole package.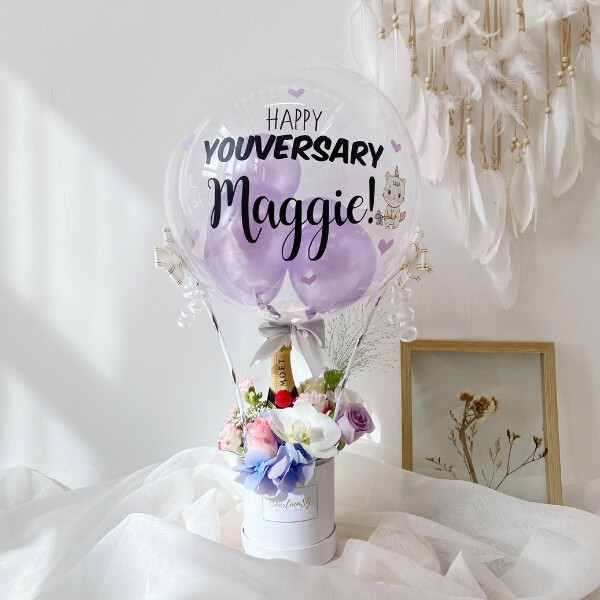 Source: Bearloonsg – Moët Floral Hot Air Balloon (Different Sizes Available)
At BearloonSG, we make conveying your personal message to the one you love a breeze. Choose from a range of colours for your hamper's box and let us know your preferred flower colour palette. Take our Moët Floral Hot Air Balloon for example. From the colour of the box and flowers to the colours of the mini balloons and add-on LED lights, get creative with different colour combinations for your flower hamper!
3. Pair With The Right Accent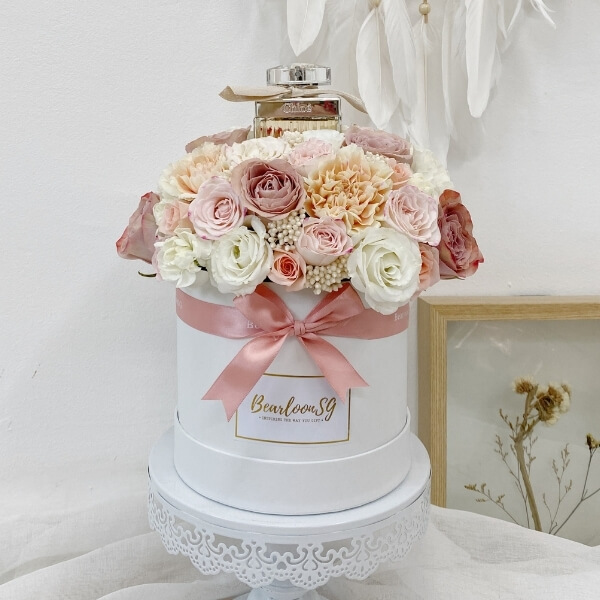 Source: Bearloonsg – Chloe Perfume Bloom Box
Pairing up with the right accent can elevate the look of your anniversary flower hamper and make a bigger impact. From making things more exciting with a latex helium balloon bouquet to adding on a surprise box to an already magnificent flower hamper, there are a plethora of ways to elevate your anniversary gift and make the moment even more special. You could even take inspiration from our Chloe Perfume Box and throw in your partner's favourite scent for that personal touch.
Explore Gift Flower Hampers on BearloonSG
If you are looking to send flower hampers to your loved one on your anniversary, then you have come to the right place. BearloonSG's range of flowers and gift hampers makes it easy for you to surprise your partner on your anniversary or even on their birthdays – an undoubtedly versatile gift.
To make your anniversary gift extra unique, look out for gifts that you can personalise. BearloonSG offers extensive customisation services so that you can always make things more personal. Let us know everything from your preferred flower colour palette to even the flowers you have in mind and our team will work to cater to your needs in the best way possible. But that's not all! In addition to a complimentary message card on which you can craft your heartfelt messages on, we offer free same-day delivery across Singapore! So, what are you waiting for? Cart out with your favourite flower hampers and surprise your loved one on your anniversary day.