Looking for a way to cheer someone up while on their journey back to health? Sending them a beautiful bouquet of flowers that will remind them that they're loved and have support even during tough times is a popular choice. But what if you're looking for something a little more extravagant that features more than just flowers? Introducing Get Well Soon hampers! A perfect gift that poses as a thoughtful gesture to boost the morale, lighten the spirits of your loved ones, these hampers make great gifts. Not sure how to choose one that is appropriate for a friend that is under the weather?
We at BearloonSG have put together a list of tips to help you choose the perfect get-well-soon flowers and hampers for your loved ones.
1. Select Long-Lasting Flowers
Source: BearloonSG – Everlasting Bloom Box – Cappuccino
When you think of flowers, many people picture bouquets of fresh florals. However, choosing a gift that lasts for weeks, if not months, will ensure that your recipient will be able to enjoy it for longer. At BearloonSG, we have a collection of signature everlasting bloom boxes that are packed to the brim with preserved get well soon flowers. Rid your recipient of the stress of having to deal with having to water the flowers to keep them fresh.
2. Allergy-Free Flowers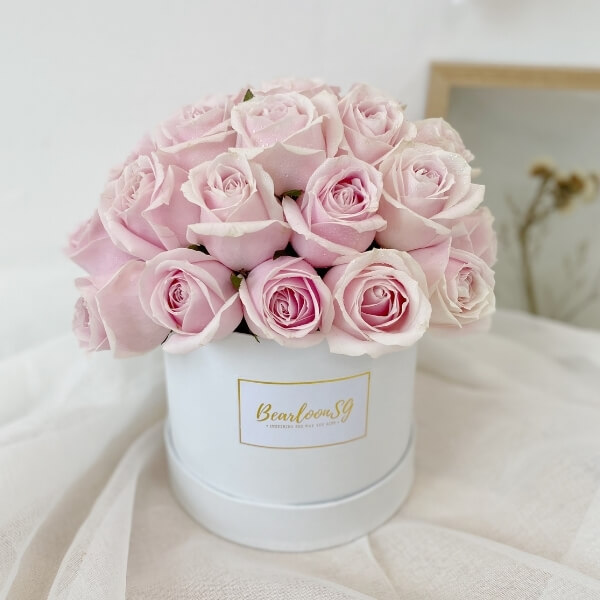 Source: BearloonSG – Pink Roses Bloom Box
When choosing get-well-soon flowers, be mindful of the type of flower you get. After all, you do not want to trigger an allergic reaction only to make your recipient fall ill again. As such, it is always practical to avoid flowers with strong scents or chemicals. Take the extra step in ensuring that the flowers are hypoallergenic to avoid causing irritation. Fresh flowers like roses, peonies, tulips, and hydrangeas are some of the few hypoallergenic flowers that lets your recipient enjoy the beautiful sight of fresh florals without having to deal with the sniffles. This makes options like our Pink Roses Bloom Box from our Roses Bloom Box collection the optimal choice. You could even go for something that has no pollen at all – like preserved flowers. Our marble everlasting bloom box is one such example of an allergy-free get-well-soon flower gift you can send to your dear ones.
3. Choose Bright Colours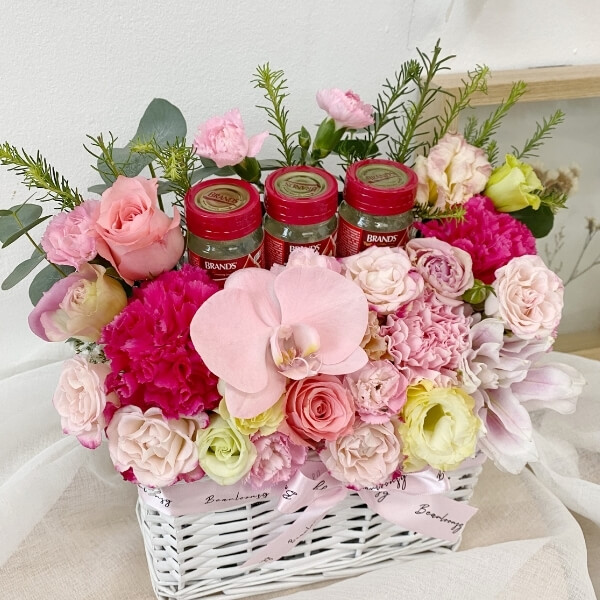 Source: BearloonSG – Bird's Nest Floral Basket
If you know your friend or loved one is unwell, you may want to think about giving them a bright floral arrangement. Choose a get well soon hamper that features either yellow or red fresh flowers – these colours are known as 'brightening' colours, and will help them feel better if they are feeling down. You could even consider getting well soon hampers that are packed with goodies that follow the same bright colour theme. Our Bird's Nest Floral Basket not only comes with the freshest blooms but also 3 bottles of health boosting Bird's Nest that add a pop of colour in addition to being a superfood that will help your recipient get back on their feet faster.
4. Keep The Season In Mind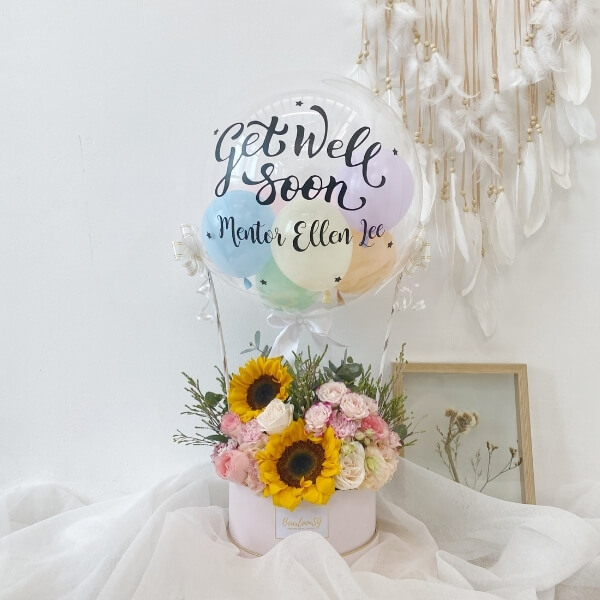 Source: BearloonSG – Sunflower and Fillers Hot Air Balloon (Different Sizes Available)
When looking to get the perfect bouquet of get-well-soon flowers, it's important to consider the season. However, you can get a bunch of roses or sunflowers almost all year. Especially if you're choosing sunflowers, they're a symbol of cheerfulness, strength and optimism for your loved ones. At BearloonSG, we have sunflowers with hot air balloons that you can complement with a personalised message to bring cheer to your recipient. Customise the box and size, and personalise the text on the helium balloon to convey your heartfelt messages.
5. Select an Appropriate Size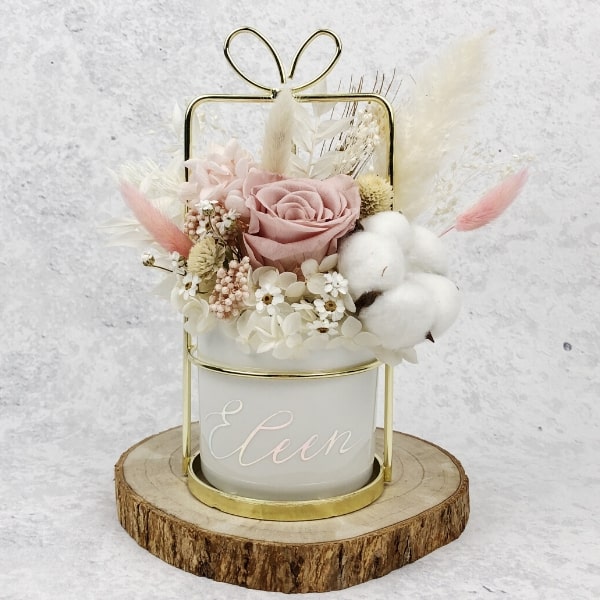 Source: Tinkerbell (Cappuccino) Floral Box
When it comes to get-well-soon flowers, size matters. If you find yourself worrying about your recipient having to carry a large bouquet or hamper from the hospital to their homes, then opt for a smaller bunch. Our miniature series of floral boxes are decently sized, allowing for easy transportation. The Tinkerbell arrangement, for example, is only 12cm wide and 22cm tall – small enough to carry and big enough to make a lasting impression.
Choose Get Well Soon Hampers with Flowers At BearloonSG
Whether your recipient needs a little pick me up or is recovering from an illness, our wellness hampers make the perfect gift. Pair them with some get-well-soon flowers, and cheer your friend up! Our wellness hampers are also packed with healthy foods like Chicken Essence, Bird's Nest and Kinohitmisu tonics for a much needed health boost.
To make your get well soon hampers more lively and personalised, we can even create a special arrangement just for you if you don't see the exact flower or colour combination that you have your heart set on. We also offer same-day delivery of wellness hampers and floral gifts throughout Singapore for free. For more details, send us your get well soon hamper requirements via email or give us a call today at + 65 83833104.