No matter how tight your friendship is with your best mate, sometimes even the best of friends need reminding that you'll be there for them through thick and thin. Friendship Day is just around the corner and we want to make sure you're ready to let your friends know just how special they are to you. Whether it's for your life-long friend or colleague, we have you covered with a list of unique gift ideas that will make this Friendship Day a memorable one.
Surprise your friends with BearloonSG's fantastic gift options that are sure to put a smile on your friend's face come the 30th of July!
1. Gift Hampers – Snacks, Gourmet Food & Wine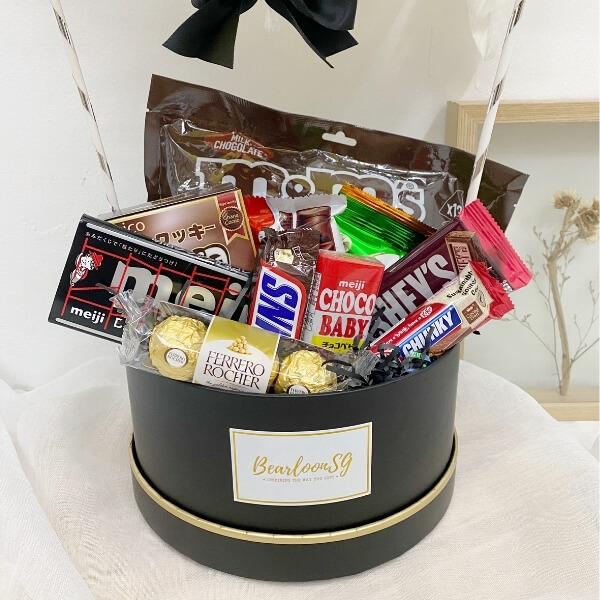 Source: BearloonSG – Chocolicious Gourmet Hamper
Gift hampers are extremely versatile, making them the perfect choice for Friendship Day. With gift hampers curated for specific occasions, you're sure to find one that will impress your friend. From Gourmet Food Hampers to Wine and Beer Hampers, choose one that reflects your friend's personality and preferences. Have a best friend who has a massive sweet tooth? Options like the Chocolicious Gourmet Hamper just might be the choice for them. But beyond merely being filled with goodies that will put a smile on your friend's face, the BearloonSG's hampers take it up a notch with all the personalisation options. Be it the colour of the box, the text on the helium balloon, or the theme, let us know your special requests and we'll create a gift hamper that simply screams "Happy Friendship Day!"
2. Flowers – Fresh or Preserved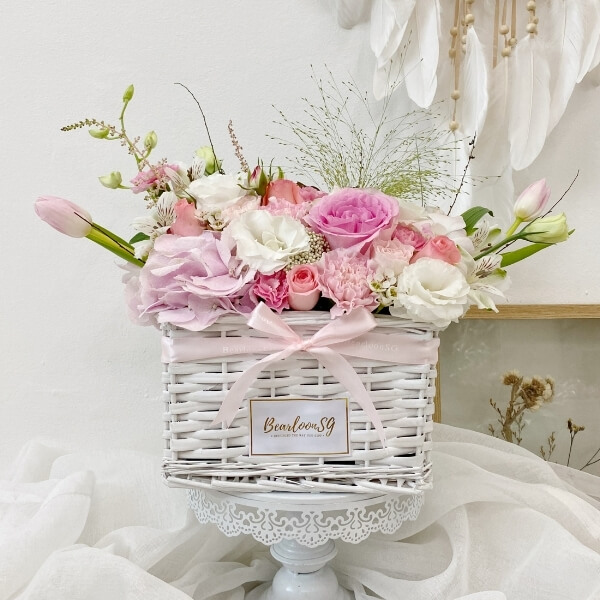 Source: BearloonSG – Pink White Floral Basket
Gifting flowers on Friendship Day is a wonderful way to express your feelings for your friends. Send him/her a beautiful bouquet of fresh flowers, which would surely make this special day even more memorable. Looking to capture the eternity of your friendship with the flowers you plan on gifting? Preserved flowers that last forever from our Everlasting Series boast options like the Tinkerbell (Cappuccino) which features a Tinkerbell pot that can be personalised with your friend's name! 
3. Hot Air Balloons 
Source: BearloonSG – 3D Totoro Inspired Hot Air Balloon
Ever wondered what will happen when you combine two of the best gifting options – blooms and balloons? Combining the best of both worlds, our selection of Signature Hot Air Balloons, takes the standard flower bouquet and party balloons up a notch.  Adding a touch of fun and happiness, our variety of customised hot balloons will ensure that your friendship is no longer up in the air (pun intended). Whether you have your eyes on Floral Hot Air Balloons or 3D Hot Air Balloons, decide on the size of your hot air balloon, the colour of the box, the arrangement, the text to be printed on the balloon, and more, depending on the type of hot air balloon you are going for. To get the party started and keep the night (And your friendship) young and alive, you could even go for a Wine Floral Hot Air Balloon that packs a punch with a bottle of Moët.
4. Teddy Bear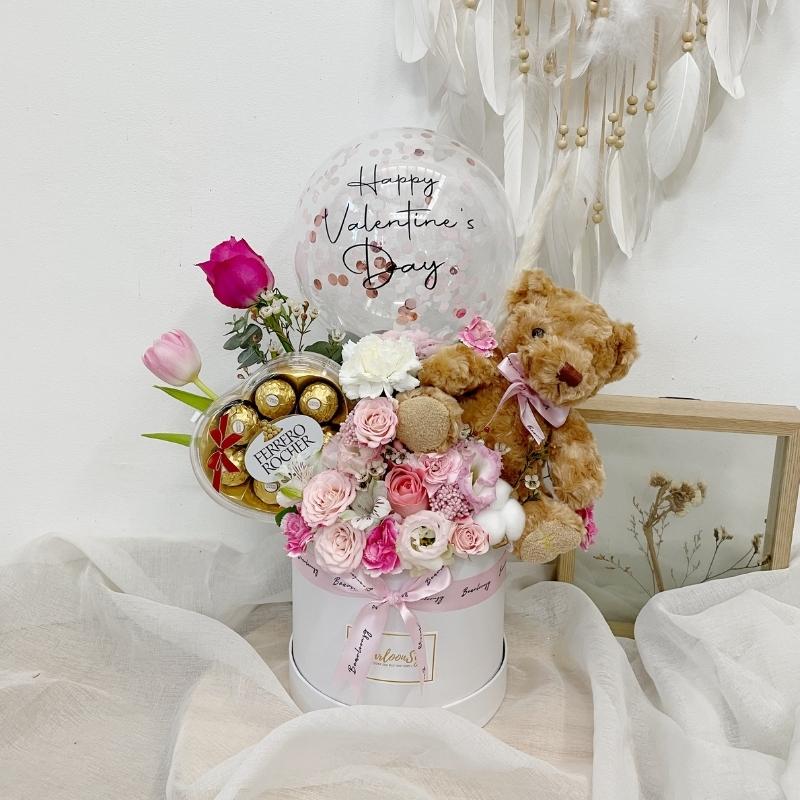 Source: BearloonSG – Fondness Floral Gift
Is there anything cuter than a teddy bear? But what if we told you that you could totally up the ante this Friendship Day? Pairing the classic teddy bear with other unique gift ideas, gift your friend sophisticated bloom boxes like Fondness, or blow them away with a massive and intricately designed Keepsake Rose Bear. This beautifully arranged teddy bear is made with foam roses – sure to last a lifetime. Throw in a couple of personalised balloons and you just might bring a tear to your friend's eye with this grand gesture. 
5. Floral Bloom Boxes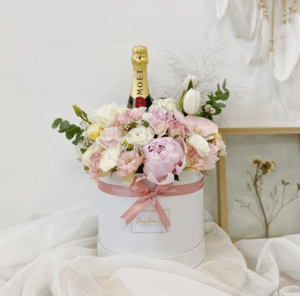 Source: BearloonSG – Moet Bloom Box – Premium
What better way to brighten up Friendship Day than by sending your dear one a box full of fresh blooms? From Wine Bloom Boxes to Perfume Bloom Boxes, our floral bloom boxes are designed to be simple and elegant yet impactful. If your friend loves simple gifts, then our Signature Bloom Box collection has you covered too! Including selections like the Pretty in Pink Bloom Box, have the flowers speak for themselves, and let the innate meaning of the fresh blooms convey the message for you when words fail. 
Make Friendship Day Special With BearloonSG
Friendship is a wonderful gift which needs to be cherished throughout our lifetime. And one of the best ways to make your friends jump for joy this Friendship Day is by sending them thoughtful gifts that tell them how much you care about them. That's where our unique Friendship Day gifts come in – with BearloonSG, there's an ideal gift available to suit your every taste and budget. We also offer same-day island-wide delivery for all our gifts. Be it the gourmet gift hampers, blooms and balloons, wine and flower hampers, or teddy bear roses, leave it to us to have your gifts delivered to any residential address in Singapore just in time for Friendship Day!