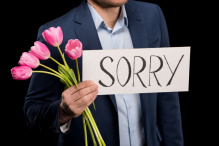 An apology is your way of showing you care about your relationship, respect the person, and are ready to move on. It removes feelings of guilt and can make both you and the other person feel better. Making the right apology will not only improve your day-to-day interactions but also help maintain good relationships with your partner, family and friends.
However saying sorry can be difficult and sometimes you can't think of the perfect words to say. If you're at a loss for words, apology gifts are the way to go. Choosing the right gift can convey your genuine intentions and serve as a reminder of your efforts to repair the relationship.
When picking an apology gift, you should consider the type of relationship you share with the person as well as their own preferences when it comes to gifts. Conveying your apologies is one thing, but being tactful with gift selection can be another. While your motive may be good there are still some things that you may need to consider before picking that perfect apology gift. Below are some of the unique gifts in Singapore to help you say sorry:
1. Pick Their Favourite Flowers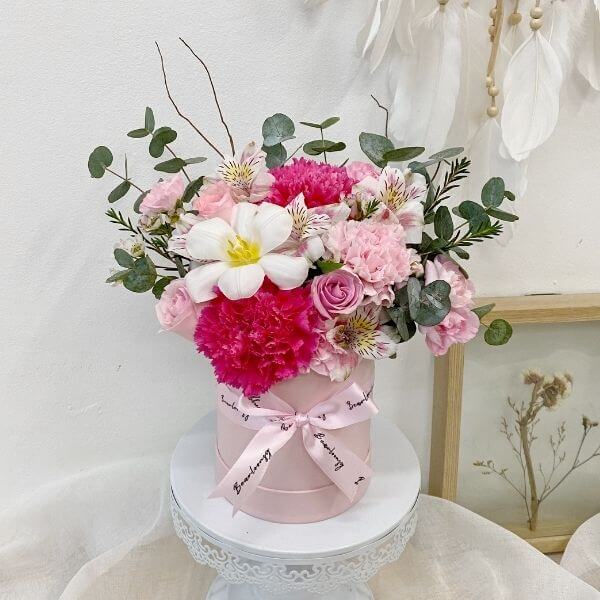 Source: BearloonSG – Pretty in Pink Bloom Box
While gifting a loved one flowers is a sweet apology gesture it's also important to pick the right flowers. A bouquet of fresh flowers tells the recipient that they are valued and you really care about their well-being, and picking their favourite flowers!
Send a peace offering and make amends with our affordable flower hamper delivery services coupled with balloons and chocolates. Your gesture will surely brighten up the recipient's day, and they'll also sense your genuine effort to say sorry and make amends.
2. Select The Right Gift Combination
Source: BearloonSG – Gourmet Hamper
The right combination of apology gifts is not necessarily the most expensive set, but rather the one that conveys your sincerest feelings. Our gourmet hamper comprises of chocolates, snacks together with a bear to express your apologies – be sure to pick the combination that your friend or family member would love! At BearloonSG, the beautiful and unique gifts we offer, can help you express your sorrow in many ways: from beautiful floral hot air balloons to thoughtful hamper deliveries. Simply place any order before 2.30pm and enjoy same-day delivery in Singapore!
3. Add a Customised Message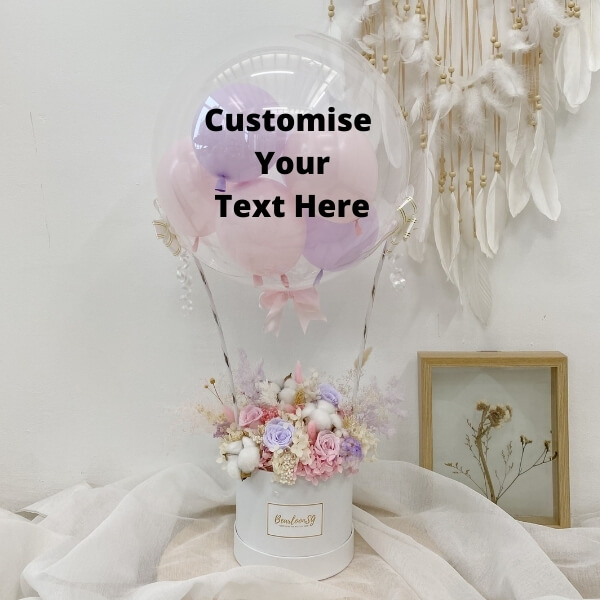 Source: BearloonSG – Pink & Purple Everlasting Hot Air Balloon – Regular
If you want to send something extra special with your gift, you can add a special message for an extra personal touch that shows your recipient just how much you care. BearloonSG's customised helium balloons are the perfect gift to convey your apologies and in case you don't know what to say, we've got you covered with 20 ways to craft an apology message.
Order Unique Apology Gifts in Singapore
If you are looking to send unique apology gifts to your loved ones, then you've come to the right place. At BearloonSG, we make it a point to deliver the highest quality fresh flowers, hot air balloons, and hampers to help you convey your deepest thoughts. We can personalise everything from 3D hot air balloons to floral hampers and floral bloom boxes so that your sincerest messages are conveyed.
We also offer 100% free same-day delivery of customised helium balloons and unique gift hampers within Singapore. For more details, check our delivery policy and get in touch via email or at + 65 8383 3104.