Making plans for your Christmas shopping? Well, you've come to the right place. At BearloonSG, we understand that there are a select few coveted Christmas gift ideas out there that are sure to make anyone's holiday a special one. No matter what your budget is, there are plenty of great Christmas gifts readily available to make the holiday season a hit for everyone including your loved one, child, or even work colleague. Whether you are shopping for a dad, your wife, your best friend, or simply playing Secret Santa at an office party, here are just a few of our favourite festive gifts that will put a smile on their faces.
1. Christmas Gifts for Your Wife or Girlfriend
When it comes to finding the ultimate Christmas gift for wives and girlfriends, many assume that they'll have to spend big to score the best present. But the truth of the matter is that even with a tight budget, you'll be able to blow your giftee — in this case, your girlfriend or wife — away without bursting it.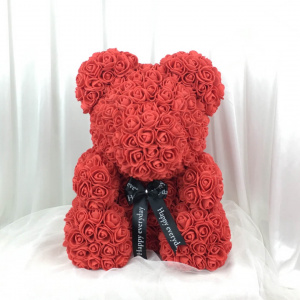 Source: BearloonSG – Keepsake Rose Bear [RED]
If finding the right Christmas gift for your wife or girlfriend is anxiety-inducing regardless of the time you've been together, you can never go wrong with a Keepsake Rose Bear. While a beautiful bouquet of flowers is always a welcomed Christmas gift, this variation of the classic bouquet is sure to be cherished by your loved one. Made out of foam roses, convey the message of your everlasting love through these long-lasting flowers this holiday season.
2. Christmas Gifts for Your Husband or Boyfriend
Just like how it can be a challenge to find a unique Christmas gift for girlfriends and wives, it can be hard to find the perfect gift for husbands and boyfriends. From anniversary gifts to birthday presents, the ideas inevitably dwindle by the time Christmas comes around. For the guy that has never stopped supporting you, it's time to flip this feeling on its head and treat him to a fail-proof gift. Whether you are tired of getting him one of the latest and greatest tech gadgets or even if he has everything he needs, all hope is not lost.
Source: BearloonSG – [Premium] Moet Bloom Box
Everyone loves to kick back and chill out for a bit and there's no better Christmas gift for him than our Christmas Bloom Boxes. Taking the standard gift hamper up a notch, this Christmas Gift Hamper has a bottle of Moet Chandon hidden between a bunch of fresh flowers. Surprise your husband with it the night before Christmas or pair it with a sentimental and romantic gift that he'll be thrilled to find under the tree.
3. Christmas Gifts for the Little Ones
If your kid has made it onto the good list this year, it's time you start thinking about what to gift them. Of course, all parents would want to give their child something extra nice after the tough academic year. But instead of the standard toys and books that most parents tend to turn to, there is an abundance of gift options that will not break the bank.
Source: BearloonSG – 3D Ice Bear Hot Air Balloon
As much as balloons have long posed themselves as a decorative element, there is no denying that balloons are a great way to add some extra festive cheer to anyone's Christmas celebrations. At BearloonSG, we add a personal touch by having them made into special shapes to represent famous Christmas characters. From ice bears and reindeer to snowmen, we have a range of Christmas-themed Hot Air Balloons. Choose the colour of the box, the colour palette you prefer for the flowers, and the personalised text that you'd like printed on the balloon. Only looking for decorative balloons that the little ones can play with for fun? We also offer a range of Christmas-themed helium balloons that can also be customised and delivered on the same day.
4. Christmas Gifts for an Office Party
Probably one of the age old traditions in offices is the Secret Santa exchange. While it might be great if you drew your friend's name, the stress of having to find the perfect gift of someone you barely know can be stressful. However, on the bright side, you now have the freedom to be a tad-bit adventurous. If you are looking for something a little different but still sophisticated, why not send a Bloom Box? These beautiful boxes are filled with an arrangement of fresh flowers, and make a lovely and unique gift. But if you've decided to get creative with your gift-giving and want to wrap some of the most unexpected gifts, then BearloonSG has you covered in that aspect too.
Source: BearloonSG – Snack Baubles
Forget just gifting one individual when Christmas comes around. Be the best Secret Santa and make gifting every single one of your colleagues a breeze with our Snack Baubles. A Christmas gift that can be customised for a more personal touch, these make great last-minute gift options. Get them in bundles of five, ten or twenty and spread the joy! After all, Christmas is the season of giving.
Have a Ho Ho Wholesome Christmas with BearloonSG
When searching for Christmas gifts just remember that whatever gift you choose, is sure to be appreciated. To best celebrate the holiday season with your loved ones and co-workers, browse through BearloonSG's extensive collection of Christmas gifts in Singapore. We also offer same-day delivery for all our Christmas gifts and hampers. Be it a Hot Air Balloon hamper or a Floral Bloom Box, leave it to us to have your gifts delivered to your loved ones in Singapore just in time for the celebration.