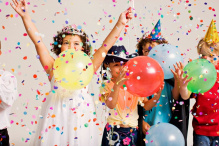 It might not come as a surprise to many but balloons have been around for centuries, and their history is just as fascinating as they are! Some of the first recorded instances of balloons date back to the early 1800s when latex balloons were first invented. Ever since then, new types of balloons have been introduced to the masses and they are now a key component in adding cheerfulness to any celebration. The ultimate creation that always brings a smile to people's faces, these party inventions are so versatile that they have evolved to become a necessity for everything from graduations and weddings to bridal showers to birthdays. But before we dive head first into the tips to consider when choosing the balloons to incorporate in your celebration, we explore some fun facts about these bouncy, inflatable balls that do wonders in lightening up the mood of adults and kids alike.
Fun Facts About Balloons
1. The First Appearance of Foil and Latex Balloons
Rubber balloons were first manufactured in London in 1824 and were created by a professor called Michael Faraday. However, these balloons were only used in the laboratory. It was only a couple of years later that a rubber manufacturer began distributing balloon-making kits, and later only in 1847 were the first balloons sold. It wasn't until the 1900s that latex balloons were first used for entertainment purposes.
2. Who Invented Them
The first modern latex balloon was created by Neil Tillotson. The balloons sold took on the shape of a cat's head. It wasn't until the late-1930s that balloon twisting became popular and took the world by storm. Then in the 1970s, foil balloons were introduced and the vast amounts of recreational balloons acted as another alternative for consumers to purchase.
3. The Different Types of Balloons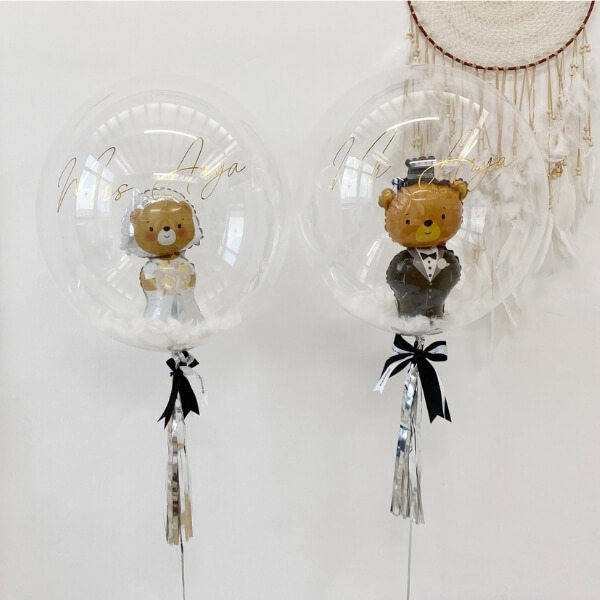 Source: BearloonSG – Personalised Balloon with Groom & Bride Mini Foil Balloon
There are two main types of balloons: foil and latex balloons. Foil balloons are made of a thin metal film, and are often used for decorative purposes. Since foil balloons are known to hold their shape, they were used frequently in the past to convey messages like "Happy Birthday!" Latex balloons, on the other hand, are made of natural rubber latex and are more commonly used for things like parties and celebrations too.
How to Choose Balloons for a Party
When it comes to party decorations, balloons are always a popular choice and are a staple of parties and celebrations all over the world. But with so many different types and styles of balloons available, how do you know which ones to choose for your event? Here are a few tips to help you select the right balloons for your next party:
1. Decide Who the Party is For
While it is true that balloons fit almost any celebration perfectly, there are several things to consider beyond the types of balloons. For one, you'll need to understand who the balloons are for. Is it a birthday party for a child, an adult, or a corporate event? The age of the "guest of honour" will help you narrow down your choices and the vibe you should be going for. For example, if it's balloons for a kid's birthday party that you are looking for, you'll find options curated according to specific kid-friendly themes.
2. What is the Occasion
Next is to gain a thorough understanding of the type of occasion that is being celebrated. Is it a formal event or a casual get-together? The tone of the party will dictate the type of balloons you should choose. From birthday balloons to Hen's night balloons, there are balloon packages that are created just for these celebrations.
3. Choose a Theme
Source: BearloonSG – Personalised Balloon [Rose Gold & Pink]
Of course, a party with a specific theme will require balloons that match that theme. For example, if you're throwing a beach-themed party, you'll want to use beach-themed balloons. If your kids or a loved one loves their furry friends, then animal-themed balloons are the way to go. However, if there isn't a specific theme and you'd rather gift a loved one a personalised balloon arrangement, then personalised balloons like our Personalised Bubble Balloons will surely impress. Simply decide on a colour scheme and you're all set.
4. Set a Budget
Source: BearloonSG – [Air Walker] Hello Kitty
Balloons can be very inexpensive, but if you're planning on using a lot of them, the cost can quickly add up. Determine how much you're willing to spend on balloons before you start shopping. It also helps if you decide if you'd like to go for large helium balloons or those that are just filled with regular air. Having a budget in mind will help you better determine the type, size and number of balloons you'll be able to get your hands on for the celebration.
5. Know the Location
Another tip for choosing the right party balloons is figuring out where the arrangements will be placed. Indoor parties will require different balloons than outdoor parties. Also think about whether the balloons will be left to float up to the ceiling of your apartment, or if they are going to be impressive decorative pieces that will take centre stage near the dessert table. Make sure you know where the party is going to be held and the placement of balloons before you purchase any decorations.
6. Use Various Decorations
Source: BearloonSG – [Balloon Garland] Pastel Rainbow Rainbow Shape
Lastly, do not just rely on balloons to elevate the aesthetic appeal of your party. Use a variety of decorations, including streamers, confetti, and banners, to make your event more festive. However, if you really would like to go all out with a wide variety of balloons, we at BearloonSG have everything from balloon garlands to themed-stacked balloons — mix and match these balloon arrangements and rest assured that your guests will be in awe.
Get Your Party Balloons Sorted with BearloonSG
By following these tips, you'll be sure to choose the perfect balloons for your next party! If you find yourself searching online "where to buy to buy birthday balloons" or "where to buy helium balloons in Singapore", you can call your search off. At BearloonSG, we are your one-stop shop for all things balloons. Order your party helium balloons and personalised ones online and leave it to us to send your orders to any residential address in Singapore. Enjoy same-day delivery of your balloon orders and party it up with our custom-made helium and latex balloons!