Are you searching for the perfect present for your beloved little one? There is no doubt that shopping for the best birthday gifts for kids of any age can be a considerable challenge, especially if you don't have any children of your own. Regardless of whether they are fascinated with prehistoric creatures or enjoy hosting a fun play-pretend tea party, you can find the ideal birthday gift for kids that will impress and gain their approval. These exceptional gift ideas suitable for children will ensure that you are the star of the next birthday celebration since you'll surely be able to ace gift-giving.
1. Everlasting Gifts that Stand the Test of Time
Flower bouquets undoubtedly make great gifts for adults, but what about kids? While a bouquet of flowers or a sophisticated floral arrangement might not be the first gift that comes to mind for kids, this all-time classic present can be an excellent option for kids too! Not only do these beautiful and long-lasting flowers retain their natural colour, texture, and fragrance, but they can also add a touch of nature and beauty to your child's room or play area. Available in a variety of colours, shapes, and sizes, it is easy to find the perfect arrangement to suit any child's personality and tastes. Plus, they can serve as a lasting reminder of the love and appreciation that the child received on their special day.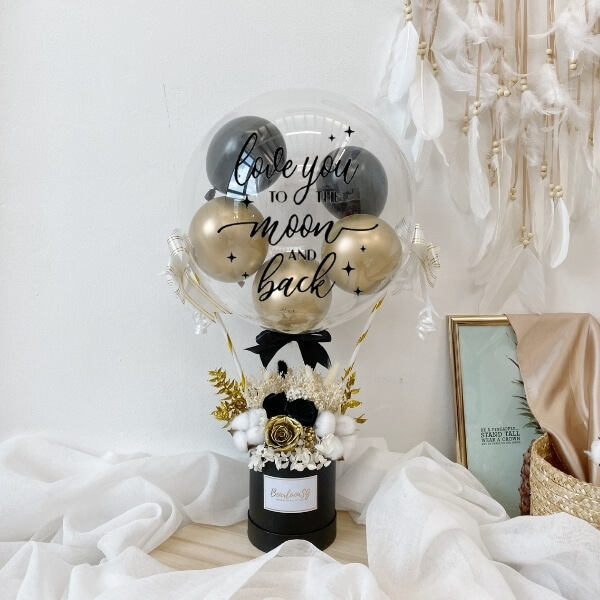 Source: BearloonSG – Black & Gold Everlasting Hot Air Balloon
Not sure where to start? Consider options like our Black & Gold Everlasting Hot Air Balloon with seasonal preserved flowers and a hot air balloon that can be personalised with your own birthday messages. If you are looking for something more subdued and fresh, browse through our range of Floral Bloom Boxes. Rather than preserved flowers, bloom box flowers like our Red Roses Bloom Box are made with several stalks of fresh, bold red roses — making for a refreshing yet sophisticated gift, even for kids.
2. Gifts that Bloom with Happiness
Source: BearloonSG – L'amour Hot Air Balloon
Tapping on the above, fresh flowers also make fantastic gifts for kids since they are more than capable of bringing the beauty and wonder of nature into their lives, and of course, the gift. A simple yet thoughtful and heartfelt gift that everyone will cherish regardless of age, you can always go for a classic flower bouquet or a Floral Hot Air Balloon that will surely turn heads. Combining the best of both worlds — Hot Air Balloons and floral bloom boxes — options like our L'amour Hot Air Balloon and Hydrangea Hot Air Balloon are worth considering when looking for the perfect birthday gift for kids.
3. Gifts that Inflate Kids with Joy
Balloons can be great gifts for kids beyond just decorating a space. Many people think of balloons as being only one-dimensional, but there are actually many different options available. From customised balloons on which you can print your personal messages or designs on hot air balloons designed to last for months on end, balloons can make unique and whimsical presents.
Source: BearloonSG – Personalised Balloon [Metallic Rainbow Mini Balloons]
So, if you're looking for a fun and unique gift for a child's birthday, consider giving them a balloon or a bunch of them. At BearloonSG, we offer a range of birthday balloons, including pre-designed options such as our balloon bouquet that has "Happy Birthday" printed on it and customisable ones like our Personalised Bubble Balloons. With so many choices available, you're sure to find the perfect birthday balloon that will bring a smile to your child's face and create a sense of joy and excitement on their birthday.
Take It Up a Notch with Themed Balloons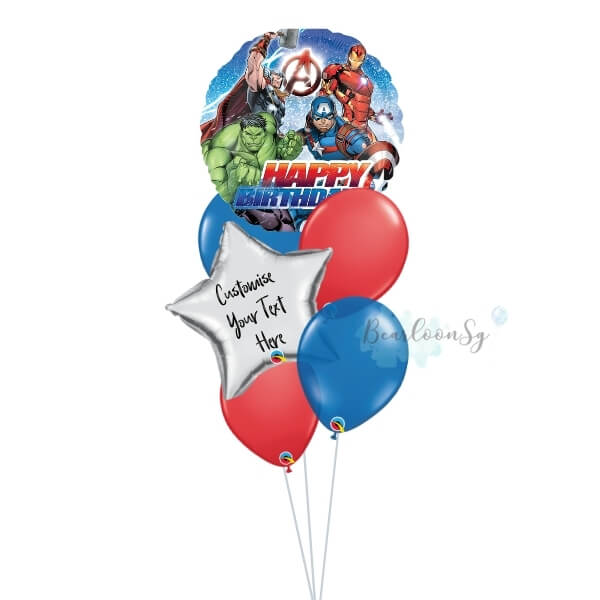 Now, what if you want to make your child's birthday extra special in a fun yet easy way? Consider themed balloons as the perfect addition to your child's birthday celebration and accompaniment to their gift! Not only do they add a pop of colour to any celebration, but they also come in a variety of shapes and sizes, perfect for creating a personalised and exciting atmosphere. And guess what? From superheroes to unicorns, BearloonSG has a wide range of character-themed balloons. Whether your kid is a huge fan of the Avengers or cannot miss an episode of My Little Pony, we've got all the favourite characters in one place. So why settle for a plain party or gift when you can elevate it to the next level with a festive and fun balloon?
4. A Beary Special Celebration
Source: BearloonSG – Keepsake Rose Bear [Pink with Heart]
Looking for an alternative to the standard flower arrangements? Keepsake rose bears just might be the stunning alternative you are looking for. Made with foam roses, this magnificent creation can last forever. Taking the beauty of preserved flowers to a new level, these teddy bears made of roses offer a unique and creative way to express love and appreciation to a child. Crafted to serve as a lasting reminder of your affection, a Keepsake rose bear, or even a Keepsake Unicorn, is a unique and special way to show a child how much they mean to you.
5. No Hampering Gift
Source: BearloonSG – Flower X Snack Hamper [Purple & Pink]
And finally, gourmet food hampers. Food hampers are one of the best birthday gift ideas for kids, especially if they love to indulge in tasty treats. A birthday food basket can include a range of sweet and savoury snacks, chocolates, candies, and other delectable goodies that kids will love. It's a perfect way to indulge in some guilty pleasures and celebrate a special occasion with a feast of deliciousness. The best part? Food hampers can be enjoyed by the whole family, providing a fun and delicious way to celebrate the child's birthday. So, if you want to make a child's birthday special, consider giving them a gourmet food hamper like our Flower X Snack Hamper [Purple & Pink], which is filled with popular snacks and treats. It's a gift that will satisfy your child's taste buds and bring joy to their special day.
Cheer Your Little One Up with BearloonSG
There are many fun and creative gift ideas for kids to make their birthdays extra special. From healthy snack hampers to balloon bouquets and food hampers, these gift ideas are sure to put a smile on any child's face and make their special day unforgettable. Still figuring out where to start? Look no further than BearloonSG. Offering a wide range of unique birthday gifts with delivery across Singapore, find everything from flowers for birthdays and food gifts to balloons for birthdays and bears made out of roses. Add your favourites to your cart and enjoy our free same-day delivery services islandwide when you place your orders before 2.30PM.