From the birth of a child to graduating from school, there are several "big" days throughout one's life. And of all the big life milestones to celebrate, a loved one's wedding day has to make the top of the list. And when your friend, someone you've shared everything with, someone who understands and supports you, someone who's been through all the ups and downs with you, gets married, finding the best wedding gift is a must to celebrate their big day. But what are the best wedding gifts for friends and how can you be sure that they'll make your bestie's special day even more memorable? To congratulate your BFF in the most epic way possible, we've got you covered with the best wedding present ideas. 
How to Choose Wedding Gifts
Before we go full steam ahead with the gift ideas to consider for the soon-to-be-wedded, it is crucial to note that there are certain things to take into consideration when finding an amazing present. Of course, you'd want to pick thoughtful gifts that will live on in your friend's memory but at the same time, you do not want to gift them something average. To ensure that your gift has some sentimental value, be sure to think about your friend's personal wants, needs, likes, and dislikes – and do not forget about their partner! While you can surely gift your friend something to celebrate their special day, the wedding gift has to commemorate your favourite couple's big day too!
Marriage Gifts for Friends
Whether you plan on upgrading the happy couple's home decor with a chic, everlasting floral arrangement or find the ultimate gift for a hen's night party just before your best friend ties the knot, consider these gift ideas: 
1. For the Newly Engaged Couple
Source: BearloonSG – Congrats Stars Balloon Bouquet
Imagine this – your friend calls you squealing, screaming at the top of their lungs that their partner just proposed to them. While congratulating them will surely suffice, what should you gift them if you're looking to congratulate them in the most tangible way possible? Taking into consideration that you'll probably have to get the newly engaged couple a few more gifts when the big day arrives, simple gifts like Congratulatory Balloons will do just the trick. With options like Congrats Stars Balloon Bouquet readily available, nothing screams "I'm happy for you!" louder than these arrangements. Personalise your very own text on the foil balloon and craft a heartfelt congratulatory message for the couple on the complementary message card, and your best friend is sure to shed a tear or two.   
2. For the Pre-Wedding Party
Source: BearloonSG – [Supershape] Platinum Wedding Ring Personalised Balloon Bouquet
Calling all ladies! Are you hosting a bachelorette party with all your girlfriends so that the bride-to-be can get together with people that she loves before she walks down the aisle? We hear you! In celebration of your BFF's departure from the single life, up the ante of your night of non-stop partying with Bachelorette Party Themed Balloons. While these might seem like an unconventional marriage gift idea for your friend, they surely will get everyone in the mood and take the party up a notch. Go all out with balloon bouquets like the Kissy Lips Personalised Balloon Bouquet, [Supershape] Platinum Wedding Ring Personalised Balloon Bouquet, or Pink Bubbly Wine Personalised Balloon Bouquet. Either get all touchy with the customised text that'll be printed on the foil balloon or craft something funny to put a smile on your friend's face.
3. Just for Your BFF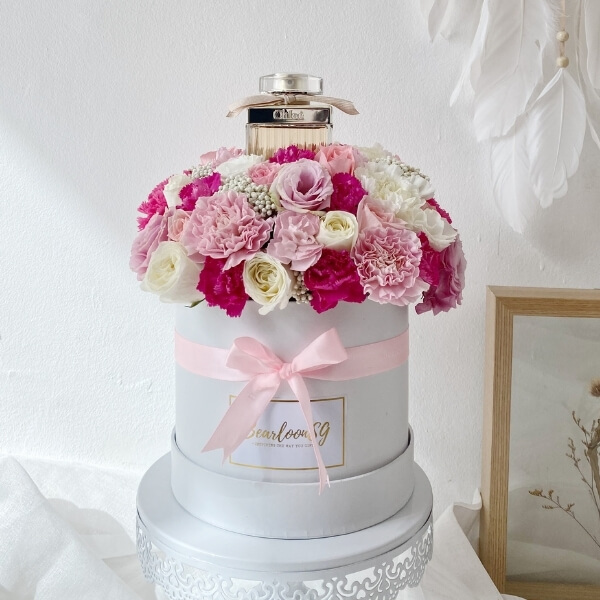 Source: BearloonSG – Chloe Perfume Bloom Box
Once the party is over and it's time to get sentimental, gifting something personal and practical is the best way forward. Whether you are looking for a gift to cheer your friend up while they deal with all the stresses of wedding planning or you simply want to share the joy of your friend finding the perfect wedding dress, whatever the situation may be, unique gift hampers like a Perfume Bloom Box will surely impress your friend. Our Chloe Perfume Bloom Box not only comes with a bottle of Chloe's Eau De Parfum that the bride can douse herself with on her big day, but it also comes in a delicate box filled to the brim with fresh flowers. Customise everything from the colour of the box to the colour palette of the flowers and add a personal touch with a handwritten message on a card to relay to your friend just how proud and happy you are of this new milestone of theirs. 
4. For the Newly Wed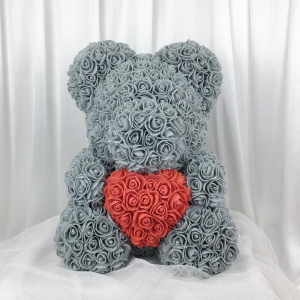 Source: BearloonSG – Keepsake Rose Bear [Grey with Hear]
"Here comes the bride" has been played, vows have been exchanged, and the first dance was shared with teary-eyed family members. Once the wedding ceremony is over, you'd want to celebrate the union of two lovebirds and there's no better way to do just that than with wedding gifts created to encapsulate everlasting love. More than a mere trendy gift, Keepsake Rose Bears make for the perfect wedding gift for couples. Made with hundreds of handcrafted roses that will stand the test of time just like the couple's love for each other, gift the newly wedded couple this floral arrangement to remind them of the vows they've made to each other. Taking a typical floral hamper to the next level, this Rose Bear comes with a PVC box that you can personalise and LED lights to brighten up the entire arrangement – making for the perfect centrepiece in their new home too! 
If your friends aren't a fan of cutesy items, another romantic alternative to consider is our Deepest Affection Hot Air Balloon – customisable with well wishes for the couple!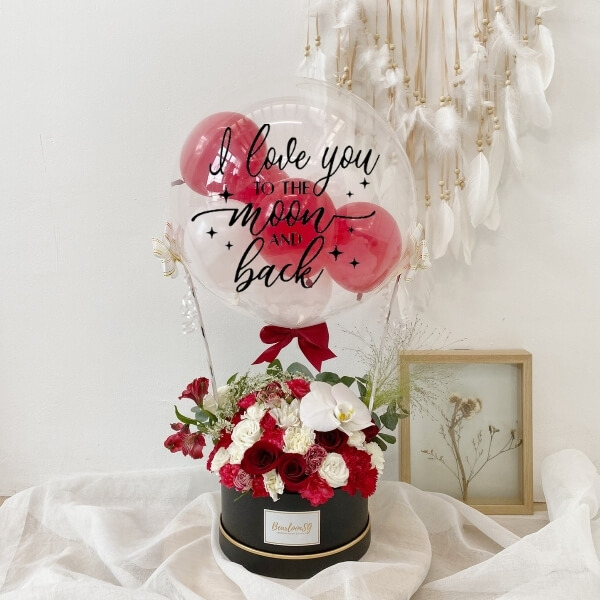 Source: BearloonSG – Deepest Affection Hot Air Balloon
5. For the Post-Wedding Party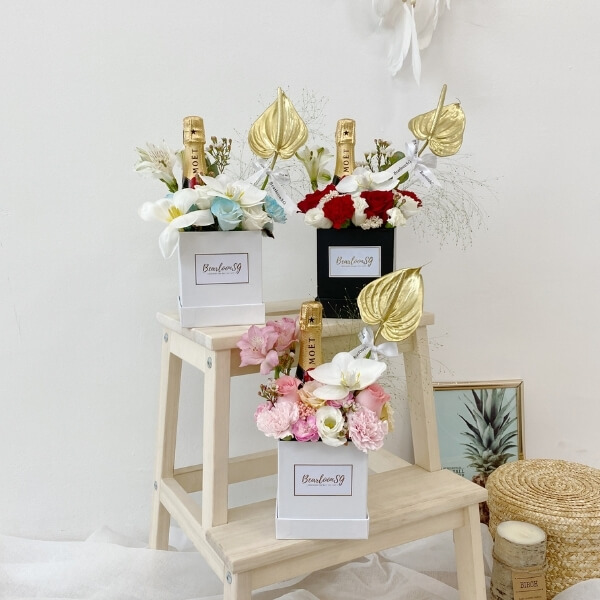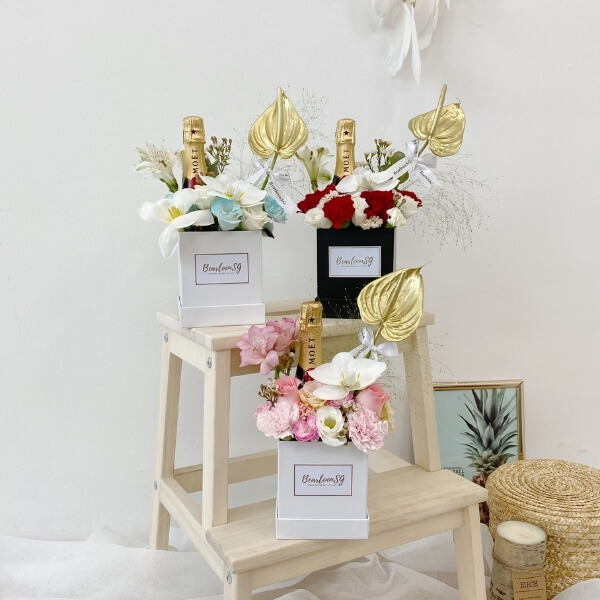 Source: BearloonSG – [Premium] Moet Bloom Box
Before the newly wedded couple escapes in their getaway car, the night has to end with an unforgettable party. To get everyone in the mood to hit the dance floor, why not go for a gift that can be shared with all? We're talking about hampers with flowers that are topped with something fancy – a bottle of wine or champagne! At BearloonSG, our Wine Floral Hot Air Balloons, like the Moët Floral Hot Air Balloon, come with a bottle of champagne. Choose between two sizes – Petite and Regular – and personalise the hamper to the couple's preferences. For something similar, you can consider our Wine Bloom Boxes too. The [Premium] Moët Bloom Box, for example, comes with a large bottle of champagne and jumbo fresh flowers all packed into a sophisticated box so that all the loved ones at the event can toast to the couple's married life.
Find Thoughtful Wedding Gifts on BearloonSG
Weddings are one of the most joyous occasions for not just the couple but all loved ones in their lives too. To celebrate their love and union, BearloonSG's wide variety of wedding gifts for couples will help take the celebration to the next level. From themed wedding balloons and  wedding floral hampers to unique gift hampers and Rose Bears, you are sure to find a wedding gift for your friend in our expansive online catalogue. Browse our gift selection, pick your favourites and leave it to us to have them delivered to any residential address in Singapore. Whether you're in a hurry or not, all our wedding gifts are available for same-day delivery in Singapore when orders are placed before 2:30pm. Celebrate your friend's big day with BearloonSG today!