Known as the Festival of Lights, Diwali is one of the most important holidays. A religious festival that celebrates the triumph of light over darkness, Diwali will fall on the 24th of October in the Hindu calendar this year. A vibrant festival that is bound to be celebrated by both the Hindu and non-Hindu communities in Singapore, gifting your clients and employees during this festival is the perfect opportunity to show them how much you care – after all, gifting on this day will symbolise light and goodness. However, there are several things to take into consideration to ensure that the gift is indeed appropriate for the occasion. What are the business etiquettes for gift-giving and what are the best Diwali gifts? Whether you are looking to gift your employees something that commemorates the victory of good over evil or looking for unique corporate gifts, we have you covered with a list of gift ideas to make this Diwali a memorable one for the people you work closely with.
Diwali Corporate Gift-Giving Etiquette
Before we dive headfirst into the ultimate gift guide for your employees and clients, there are a few business etiquettes of gift-giving to take note of, especially when it comes to gifting your clients. While gifting your own employees may seem like a simple task, finding a gift that leaves a good impression amongst your clients is a whole other ball game. To avoid a breach of professionalism and to effectively connect your brand to others, be tasteful in your gift of choice and send something that everyone in their company can enjoy. You'd also want to give something that aligns with their brand and what they stand for.
Diwali Gift Ideas to Consider for Clients
As mentioned above, when it comes to gifting your clients, you'll want your gift of choice to show that your company is professional and everything has been well thought-out. This means that presentation is everything and simply sending your new or long-term clients a box with random gifts wrapped in plastic is not going to be the best way forth. To show your appreciation of the trust they've put into your business, consider these premium corporate gifts available on BearloonSG:
1. Corporate Gift Baskets for Clients 
Source: BearloonSG – Black Snack Box Hot Air Balloon
Hampers are known as the gift that keeps on giving. This not only makes corporate hampers the safest choice for your clients but also one that they are sure to appreciate this Diwali. And with so many Modern Gift Hampers to choose from, you're bound to find one that will appeal to your client and speak volumes about your brand. However, as mentioned above, the best corporate gifts for clients are ones that can be shared. For corporate gift baskets that can be shared, consider Gourmet Gift Hampers that come filled to the brim with goodies and premium treats that everyone will be reaching out for. If you are not confident enough to gift your client Wine and Beer Hampers, Gourmet Food Hampers are your safest bet. With options like the Black Snack Box Hot Air Balloon that includes premium chocolates and other treats, corporate hampers such as these are not only appropriate for Diwali but will also showcase your company in the best light
2. Wine Bloom Box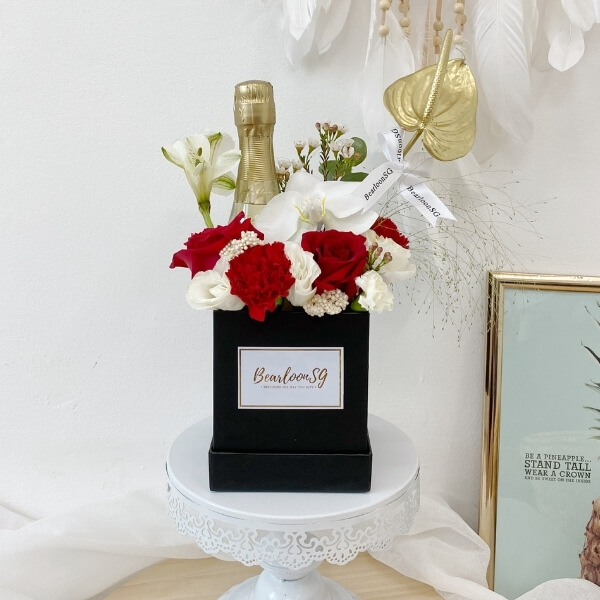 Source: BearloonSG – Square Moscato Bloom Box
Worked with your client for a long time and established a close relationship? Raise your glasses to the celebration with Wine Bloom Boxes. Putting a twist on the typical food and wine hampers, our Wine Bloom Boxes, such as the Square Moscato Bloom Box, combine the best of both worlds – wine and flowers. While floral hampers are an ideal gift to send on any occasion, some might want to take it up a notch for such a grand celebration. To up the ante, pair your wine hamper with a snacks hamper like the [Jumbo] Snack Box Hot Air Balloon (Black & Gold). Wine, snacks and flowers, what more can one ask for?
 Diwali Gift Ideas to Consider for Your Employees
Clients aside, of course, you cannot forget about the very people that you're working with day in and out. While all of the above-mentioned corporate hampers will make great gifts for your employees too, if your budget permits, you may want to consider making things more personal for the Festival of Lights. To bring more positivity and brighten up your employee's day, consider customisable gift hampers. 
3. Gift Hampers for Employees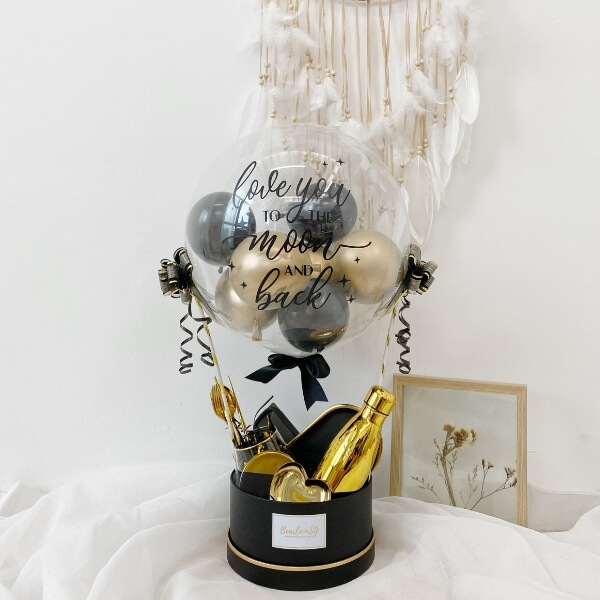 Source: BearloonSG – Black Gold Lifestyle Hamper
When it comes to corporate hampers for employees, you can let loose and take a more fun approach. While you'll still have to be professional, getting creative and gifting practical things that your employees can use every day is just as feasible. For a gift hamper that is packed with essentials that can be used for a long time to come, consider Lifestyle Gift Hampers like the Black Gold Lifestyle Hamper. Containing trays, coasters, a mug, and a tumbler amongst other things, add a personal touch by customising the text that will be printed on the tumbler and the balloon. For corporate hampers that show that you care, you can also consider Wellness Hampers like the Kinohitmisu Tonic Hamper that features a box filled with several bottles of nutritious tonics such as Essence of Chicken and Bird's Nest. Decide on a theme that will complement the celebration and throw in LED lights to the corporate hamper to fully embrace the Festival of Lights. 
Celebrate the Festival of Lights with BearloonSG
When searching for Diwali corporate gift ideas for your employees and clients, just remember that the gift that you are considering has to be professional and appropriate for the celebration. To best celebrate the Festival of Lights with your clients and employees, browse through BearloonSG's extensive collection of premium corporate gifts in Singapore. We also offer same-day delivery for all our corporate hampers and gifts. Be it a wine and snacks bloom box or a corporate gift basket, leave it to us to have your gifts delivered to your clients or employees in Singapore just in time for the celebration.