Hari Raya is a time for joyous celebrations and reconnecting with loved ones. If you plan on visiting friends and family during this festive season, you'll want to come bearing the best gifts showing your appreciation and respect. After all, going on house visits empty-handed is never a good idea. Therefore, we at BearloonSG have compiled a list of unique Hari Raya house visit gift ideas that will delight your hosts. From beautiful flowers to delicious Halal gourmet food hampers, we've got you covered. Whether you're visiting old friends or making new connections, these thoughtful and practical gift ideas are sure to make your Hari Raya house visits even more special. So, let's get started and explore some of the best gift ideas for Hari Raya house visits. And who knows, you might even end up finding something special for yourself!
1. The Best Food Hampers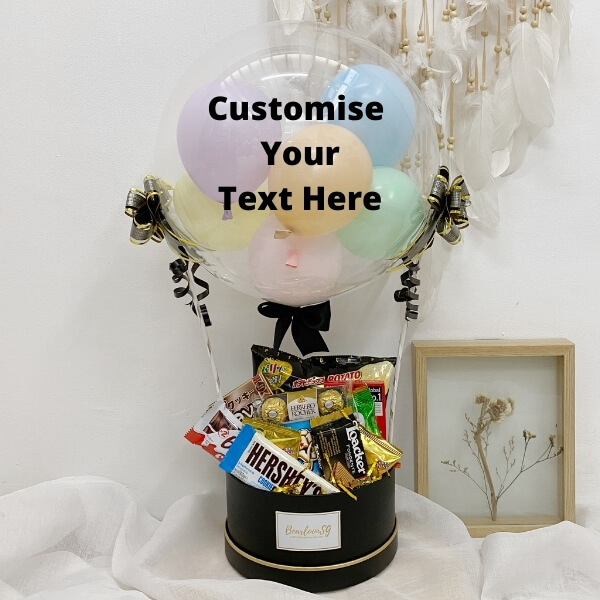 Source: BearloonSG – Halal Gourmet Hamper
When it comes to finding the perfect food gift in Singapore, it's essential to consider the dietary needs of our loved ones. And if you're on the lookout for a gift hamper that's not only thoughtful but also halal-certified, look no further than our Halal Gourmet Hamper! Packed with a delightful assortment of sweet and savoury treats, this hamper is perfect for any occasion, even Hari Raya or a simple "thank you" gesture for the invite. From chips to delicious chocolates, the Halal Gourmet Hamper has something to please every taste bud. And the best part? It comes with a personalised helium-filled Hot Air Balloon to make the gift even more special. So go ahead, spread some joy and treat your loved ones to a delicious surprise when the 22nd of April comes around!
2. Flowers that Hold Meaning
Source: BearloonSG – Petite Pink & White Baby Breaths Bloom Box
Are you searching for a gift that adds a touch of elegance to your loved one's home this Hari Raya season? Look no further than our selection of Signature Bloom Boxes! Any of these gorgeous floral arrangements are sure to liven up any room and create a cheerful atmosphere. Our bloom boxes feature an exquisite mix of flowers, including roses and sunflowers, arranged in a luxurious box. It's a timeless gift that your friend or family can enjoy long after Hari Raya is over. Whether your loved one has a modern or traditional taste, the Signature Bloom Box is a perfect fit. Plus, it's a great way to show appreciation for the warm hospitality you'll receive during your Hari Raya house visits. Not sure where to start? Consider our Petite Pink Roses & White Baby Breaths Bloom Box packed with fresh pink roses symbolising appreciation, gratitude and admiration!
3. Combining Flowers and Balloons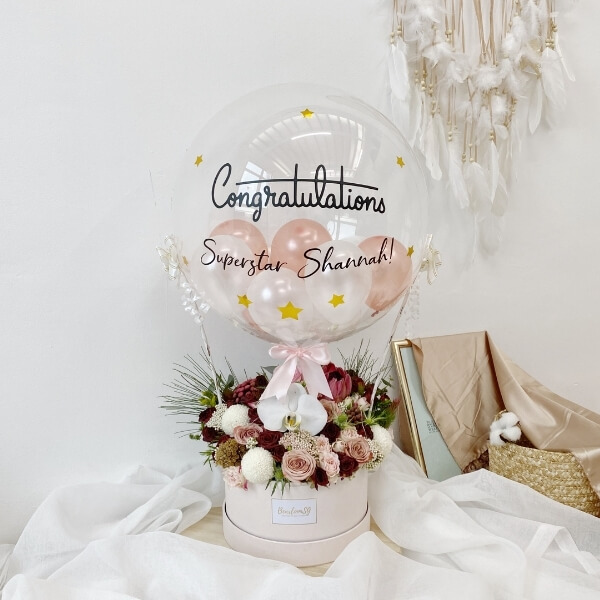 Source: BearloonSG – Love Rosie Hot Air Balloon
Perhaps a bunch of flowers isn't what you are looking for, and you are looking for a gift that's out of the ordinary. Something that will blow your loved ones away? Look no further than our Floral Hot Air Balloon! Perfect for those who love extravagance and over-the-top decorations, this balloon hamper will definitely stand out. Our Floral Hot Air Balloon comes in various designs and colours, so you can pick one that suits your loved one's taste. Whether it's a classic and elegant design or a fun and whimsical one, we've got you covered. Picture the moment your loved ones receive this beautiful floral arrangement in a stunning hot air balloon! From options like Love Rosie Hot Air Balloon to Roses & White Baby Breaths Hot Air Balloon, choices are aplenty. Don't settle for a boring gift; choose our Floral Hot Air Balloon and make a statement this Hari Raya season.
Impress your Host this Hari Raya with BearloonSG
Looking to make your Hari Raya house visits extra special this year? BearloonSG has got you covered with a wide range of unique gifts that will surely leave a lasting impression on your loved ones. Whether you're looking for a tasty halal food hamper in Singapore, a beautiful box filled with fresh flowers, or a playful balloon hamper paired with delicate blooms, we have something for every taste and budget. And with our free same-day delivery services islandwide, we guarantee on-time delivery of your gifts and gift baskets. So why wait? Start browsing our selection today and make this Hari Raya a truly unforgettable experience for everyone involved! Simply place your orders before 2.30PM and leave the rest to us!