Moving into a new space is the perfect way for anyone to get a fresh start. As such, if there's anyone in your life that has recently found a new home, there is plenty of reason to celebrate the wonderful occasion with them. So, if you're looking for the perfect housewarming gift, we at BearloonSG have you covered. Whether you're shopping for a close friend or family member, we've rounded up some of the best housewarming gift ideas to help them get settled. And we're not talking about the standard, expensive gifts that might burn a hole through your wallet, but rather thoughtful, personal, and maybe even useful ones that will usher in a new chapter in your loved one's life in the most sophisticated way possible.
1. For the Food Lovers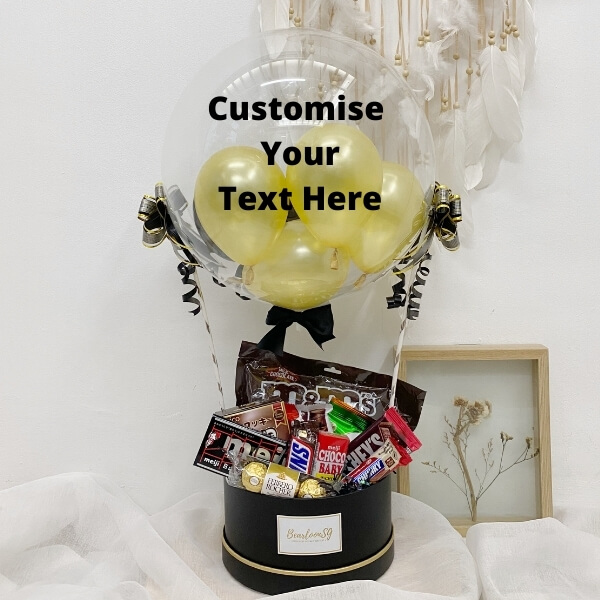 Source: BearloonSG – Chocolicious Gourmet Hamper
Let's face it — we all have that friend that recommends the best food joints to hang out at and will fall head over heels for a gourmet meal at a fancy restaurant. While a thoughtful and practical gift like a cutting board or a colourful set of glasses and dishware might be a great housewarming gift for the foodies, there is another option — a gourmet housewarming hamper! A Gourmet Food Hamper is the perfect way to show your loved one how much you care. Filled with delicious treats, it's a gift that keeps on giving — and eating! Options like our Halal Gourmet Hamper and Chocolicious Gourmet Hamper are filled to the brim with sweet treats. But that's not all! These housewarming hampers come paired with a helium-filled Hot Air Balloon that you can have your very own personal text printed on! Choose the colour scheme and the design theme and leave everything else to us — talk about the ultimate personalised housewarming gift!
2. For the Interior Lover
Source: BearloonSG – Tinkerbell [Cappuccino]
Have a friend that has a specific sense of style and is all about creating a certain vibe in their home? Help them liven up their living space with nature's best pick-me-ups — flowers. There is no denying that a beautiful floral arrangement or a bloom box from our Everlasting Series is the perfect way to help them jazz up their new abode. Whether you choose something from our Floral Bloom Box collection or Everlasting Hot Air Balloons, you'll be able to gift them something that is filled with gorgeous blooms that will beautify their space in an instant! If your loved one prefers a more traditional look, consider the Tinkerbell [Cappuccino] which features preserved flowers that will last for years to come. For something more modern and fun, the Black & Gold Everlasting Hot Air Balloon is another great choice. With a Hot Air Balloon that will impress other guests at the housewarming party, this Hot Air Balloon flower box will surely be cherished forever.
3. For the Practical Ones
Source: BearloonSG – Pink Marble Lifestyle Hamper
For a friend or family member who is starting from scratch with their new home, getting them a classic move-in bundle is always a great move. And our Lifestyle Gift Hampers are exactly what you're looking for. Be it the Pink Marble Lifestyle Hamper or the Black Gold LIfestyle Hamper, these hampers come with everything they need, including trays, coasters, glass mugs, tumblers, and a box of utensils!
4. For the Lover of All Things Cute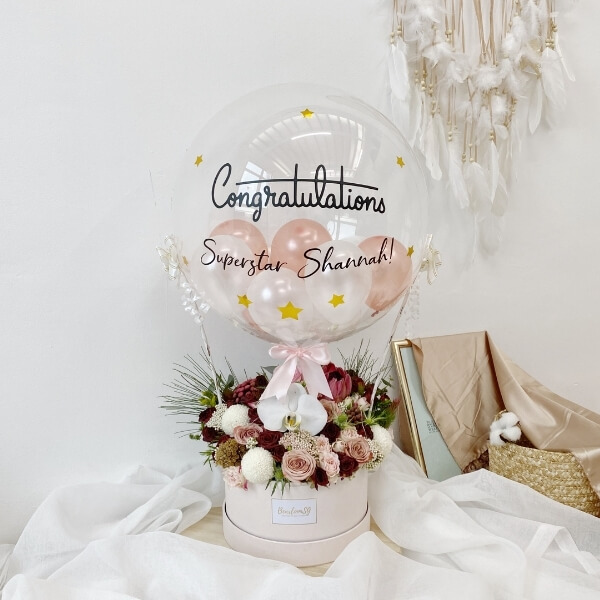 Source: BearloonSG – Love Rosie Hot Air Balloon
Usher in the next chapter of good times with a bright and cheerful Floral Hot Air Balloon or a large Keepsake Rose Bear. An everlasting housewarming gift that perfectly encapsulates how proud you are of their new milestone, these housewarming gift options are filled with hope and happiness. Lift their spirits with a Love Rosie Hot Air Balloon, which comes with a box filled with fresh flowers and a stunningly impressive Hot Air Balloon that's bound to take centre stage in their home. Alternatively, you can go for a massive Rose Bear that is painstakingly made with individual foam roses to create a life-like bear that can last forever.
5. For the Party Planner
Source: BearloonSG – Party Time Gourmet Hamper
Nothing screams "You should throw a housewarming party!" like gifting a Wine and Beer Hamper. The perfect housewarming gift idea for the person who loves to entertain, our gourmet food hampers like the A Toast to You Gourmet Hamper is always a welcome gift. After all, what better way to say cheers to the brand-new homeowners than with a glass of sparkling wine? Paired with a Hot Air Balloon, these types of hampers are sure to be a hit with both the guests and the new homeowner.
Celebrate Your Friend's New Place with BearloonSG
Whatever your budget may be, we at BearloonSG have a range of housewarming gifts in Singapore that will fit any budget. From Hot Air Balloon flower boxes to Gift Hampers and more, we've got them all! And we also offer same-day delivery for all our housewarming gifts and hampers. So, what are you waiting for? Go ahead and shop with confidence knowing that you'll find the perfect present for your loved one's new home.