It's that time of the year again! As we all prepare to say goodbye to 2022 and welcome a brand new year, it's only appropriate that we make New Year's Eve a night to remember and celebrate it with an epic party. Whether you're hosting an intimate gathering or a large-scale event, here are 6 ideas to get things rolling as we count down the seconds until 2023.
1. Create a Fun Ambiance
The ambiance of your space is key in setting the tone for your celebration. And when it comes to setting the right mood for your New Year's Eve party, instead of the generic table decorations that will impress your guests only when they're having dinner, think balloons, streamers, confetti, and even some sparkly decorations.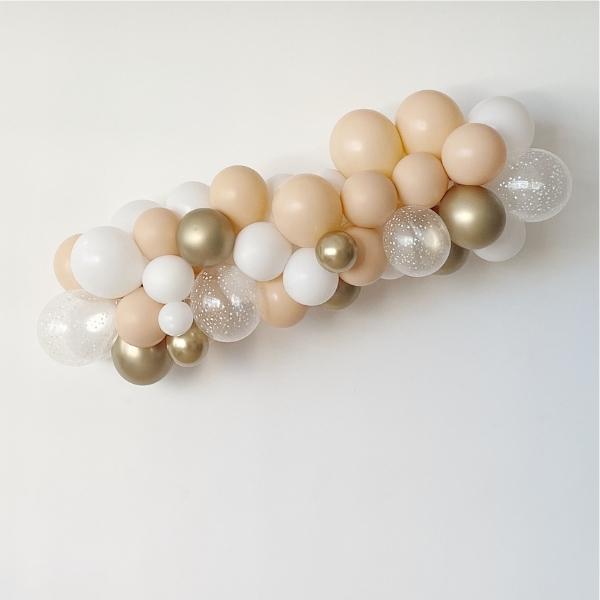 Source: BearloonSG – [Organic Balloon Garland] Luxurious Blush & Gold
If you're looking for something special, consider decorating your home or party venue with BearloonSG's selection of Latex Helium Balloon Bouquets and Balloon Garlands. Taking it up a notch from the standard go-to method of throwing random balloons into corners of a room, they have the ability to make any space look extra festive with their extravagance, vibrant colours, and creative shapes. Our Luxurious Blush and Gold Balloon Garland, for example, is perfect for welcoming the new year in style!
2. Get Everyone Involved with a Theme
What better way to add some fun and make sure that everyone looks great during your party than by having guests dress up according to a theme? Whether you have in mind a classic black tie event or fun-themed parties like a superhero night, let your imagination run wild! Even better, why not decorate your space with party balloons that complement the theme you are going for? From superhero-themed balloons to even censored designs, BearloonSG has balloons for every type of party.
3. Plan Activities
Of course, no New Year's Eve party is complete without some activities — so why not plan out some games beforehand? If you are going to have young kids attending your New Year's Eve party, consider planning out some interactive child-friendly activities such as charades or scavenger hunts, so that things are kept PG. But if it's a night just for the adults, go all out with the fun stuff! From setting up a karaoke station where everyone can take turns to belt out their favourite songs to a body-twisting game of twister, you can pull all the stops to keep guests entertained and excited about ringing in 2023!
4. Have Plenty of Beverages
After all that partying and celebrating, don't forget about refreshments for your guests! Whether it's mocktails for the kiddos or fancy cocktails for the adults, make sure there are plenty of drinks available throughout the night and that everyone has a glass to raise when the clock strikes twelve!
5. Plan a Memorable Meal for Your Guests
While beverages are important during any gathering, nothing beats ringing in the new year with good food. You don't need to go over-the-top but make sure there's enough finger food to go around and desserts that will satisfy those sweet cravings before midnight hits!
6. Know that Everything is in the Details
Source: BearloonSG – Chuga Jeju Soju Hot AIr Balloon Hamper
Last but not least – don't forget about those little extras that can really pull everything together and truly elevate the experience for all your guests. More specifically, we're talking about the things you can do both before and after the party. Things like New Year hampers being sent out to guests before the party will go a long way towards making this an unforgettable night of celebration! At BearloonSG, we have a wide selection of modern gift hampers that are perfect to usher in the new year. From food and wine hampers to organic hampers, we have them all!
Cheers to the New Year with BearloonSG
With these 6 tips as your guide, you're now fully equipped to host an unforgettable New Year's Eve party that'll have everyone talking about it until 2023 rolls around again next December 31st.
And if you're looking for help bringing these ideas to life, check out BearloonSG's collection of the best wine hampers in Singapore and more. Forget searching "where to get party balloons" online, and simply browse our extensive selection of party balloons that will ensure your friends and family will have an amazing time celebrating this momentous occasion together. Welcome 2023 with us and cart out with your favourite wine and snack hampers or order party balloons online and enjoy free same-day delivery for all orders placed before 2.30PM.
Happy New Year everybody!