Personalised gifts are probably one of the favourite types of gifts to receive for most people, and it's easy to see why: no matter the value of the gift, the effort put in by the gifter makes all the difference. Let's look at some reasons why you should go the extra mile to personalise a gift before it reaches your recipient:
A Unique Touch
There is no better way to add your unique personal touch to a gift than personalising it. Whether it's a simple but heartfelt message or a handmade card, a well-thought-out gift will be remembered by the recipient for a long time.
Appropriate for Everyone and Every Occasion
Let's face it, nobody is going to say no to a thoughtfully personalised gift. Personalised gifts are also suitable for all occasions – whether it's a birthday, anniversary or baby shower, you won't go wrong with adding a personal touch to your gift.
Perfect for Corporate Gifting
If you work closely with clients or employees, sending them personalised gifts is an excellent way of showing your gratitude and appreciation. On top of that, gifts that are personalised with your company or brand name also double up as promotion for your business – talk about a double win!
Ways to Personalise a Gift
So, how do you go about personalising a gift? Penning a sincere message from your heart is the best way to start. That's right, personalising a gift doesn't have to be difficult or elaborate – it's always the thought that counts!
Here at Bearloon, all of our gifts come with the option of including your personalised message on a greeting card. Apart from writing a heartfelt message, you can also check out our range of personalised gift options. Here are a few ideas to help you get started:
Featuring a 24" helium-filled transparent balloon with mini balloons inside, our customisable balloon is a fuss-free way to send across your well wishes.
Source: BearloonSG
You can personalise the text on the transparent balloon and pick a colour theme for the mini balloons contained within. You can even opt for a design theme for the balloon, such as Hello Kitty or Unicorn if your recipient fancies!
Know of someone who just welcomed a bundle of joy into the family? There's no better way to congratulate them than sending across our newborn hampers.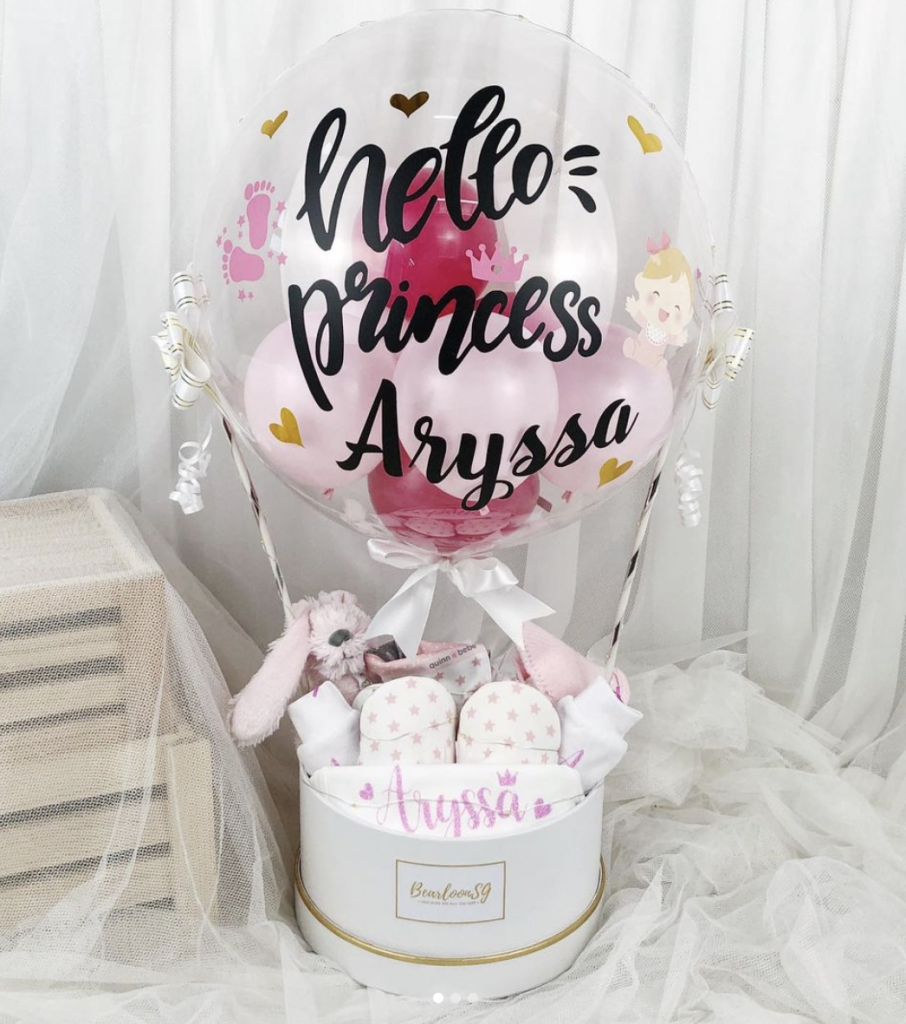 Source: BearloonSG
Apart from being packed full of useful items like baby mitts, rattles and bibs, it also comes with a fully customisable baby romper and balloon… super cute!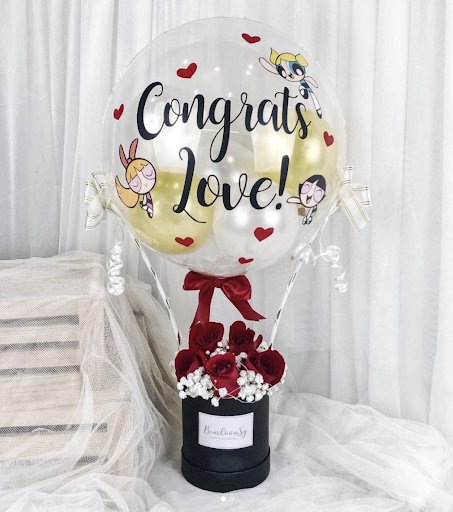 Source: BearloonSG
Whatever the occasion, you won't go wrong with gifting our signature floral hot air balloon. On top of the option of personalising the balloon text and choosing the colours of the mini balloons, you also get to decide your flowers' colour palette and the type of flowers you want to include in your hamper! Talk about taking gift personalisation to the next level.
If your recipient is a serial snacker, they are going to be thrilled to receive this snack box hot air balloon. What's cooler is that you get to personalise the colour theme of the snacks – just tell us your preferred colour palette and leave the rest to us!
Source: BearloonSG
If your recipient requires halal snacks or is allergic to nuts or certain ingredients, simply let us know and we will pack the snack box accordingly.
For a practical yet gorgeous gift, opt for our novelty gift hampers. Every hamper comes with practical everyday items like tumblers, mugs and utensils.
Source: BearloonSG
The best part? Both the balloon and tumbler can be personalised with your recipient's name. Talk about a memorable gift!
Feeling inspired yet? Browse Bearloon SG's catalogue for more personalised balloon and hamper gift ideas. Enjoy complimentary same-day delivery and many unique customisation options when you shop with Bearloon SG.