When it comes to giving someone a gift, it can be challenging to select the right one. The right gift can fill anyone with joy and excitement. If you are wondering which gift to get for your recipient, consider flower hampers. Flower hampers are ideal for any occasion for several reasons, presenting a personalised approach to which you can attach a special meaning.
They make beautiful gifts
Gift hampers with flowers are unique gifts that will take the recipient's breath away. There are so many types of colour palettes to choose from, so you don't need to settle for only one kind. If you want to take it a step further, you can aim for hues and species with specific symbols as an extra touch.
They also complement any other present you had in mind. So, if you bought something you're not sure they'll enjoy, you can add a birthday flower hamper just in case. You won't go wrong with that!
An element of surprise 
We're sure you'd love to see the surprise on your recipient's face when they open your present. Well, flower hampers are excellent in concealing the gift contents. Just imagine how your recipient's eyes will light up as they uncover the goodies hidden within the hamper! Apart from keeping the contents of the gift hamper hidden, flowers are also an excellent gift for someone who's ill and in need of some cheering up.
So, next time you want to send a practical gift but wish to spice it up with some elements of mystery, you know what to get!
Contain items that everyone will love
The best part of flower hampers is that they are suitable for all occasions. It doesn't matter what the celebration is – with Bearloon's extensive selection of flower hampers in Singapore, you are sure to find something suitable for your recipient.
Here are a few examples of the available flower hampers for delivery in Singapore from Bearloon:
Source: BearloonSG
This gift is ideal for anyone who loves snacks. Take your pick from a wide variety of snack hampers – whether your recipient has a sweet tooth or prefers savoury goodies, there's something for everyone.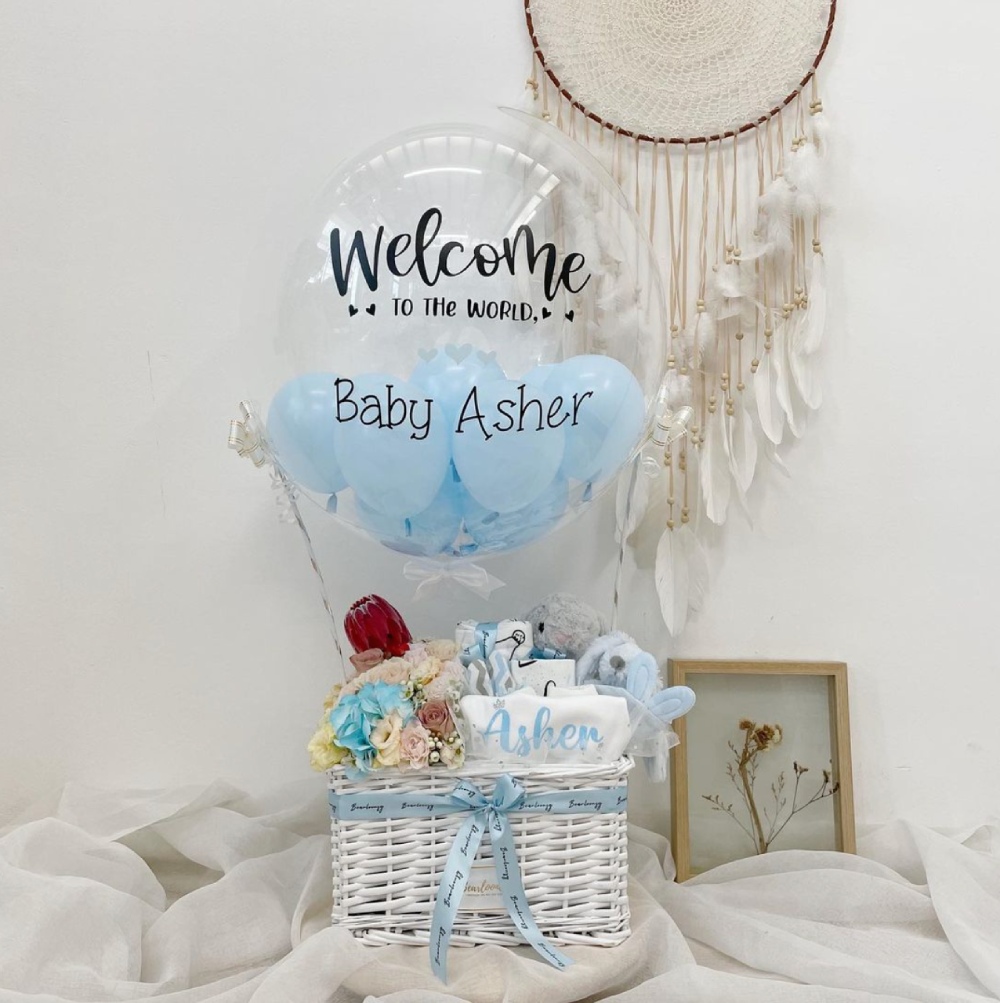 Source: BearloonSG
Parents need many practical items for their babies, but they don't need to be dull. Our newborn hampers come with beautiful yet essential items like customised babywear, rattles and teethers.
Source: BearloonSG
Thinking of gifting practical items but worried that it'll seem too plain? Opt for our Flower x Life Style Hamper. Apart from a box full of useful items like tumblers, coasters and utensils, your recipient will also be receiving a customised hot air balloon and floral arrangement together with the hamper.
Source: BearloonSG
There may come a time when you need to celebrate a special occasion, such as anniversaries, birthdays, winning a corporate contract, signing with a new client, or even New Year. Grace the occasion with our gorgeous Wine Flower Hampers, which come with a bottle of premium wine and a beautiful floral arrangement.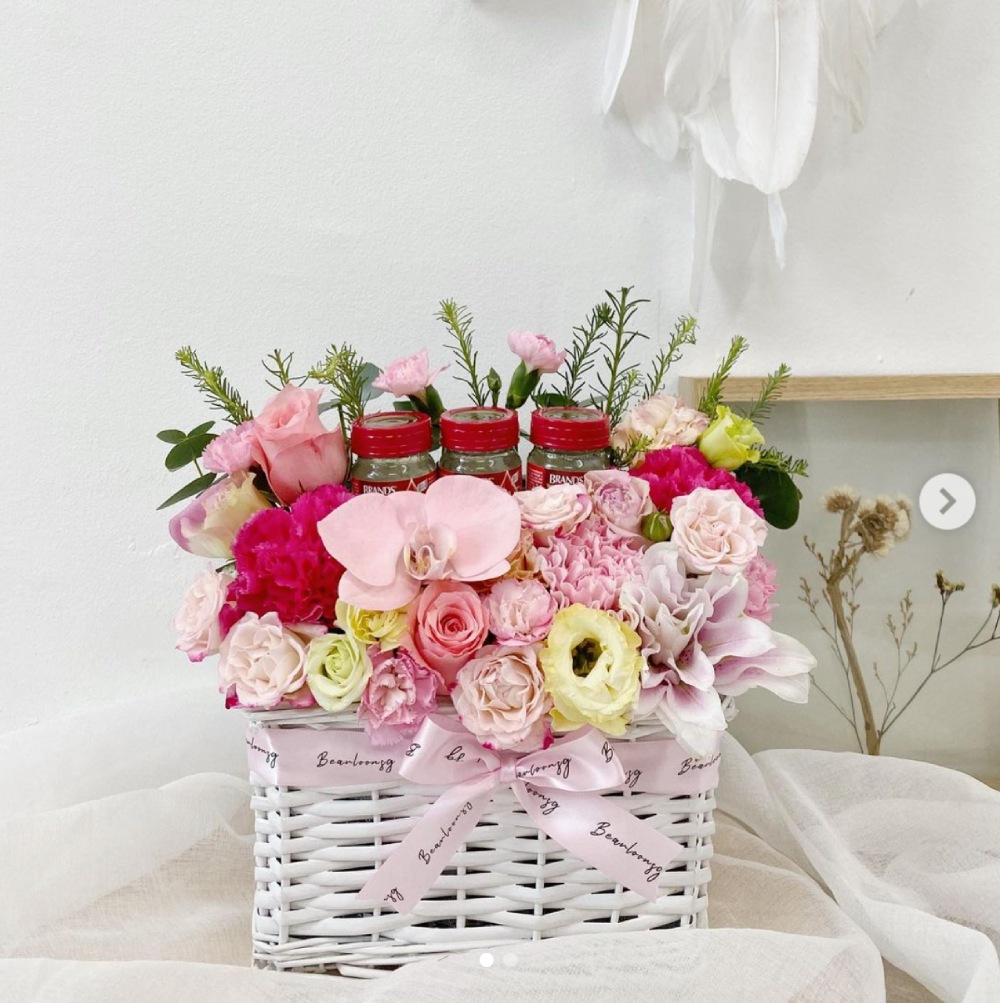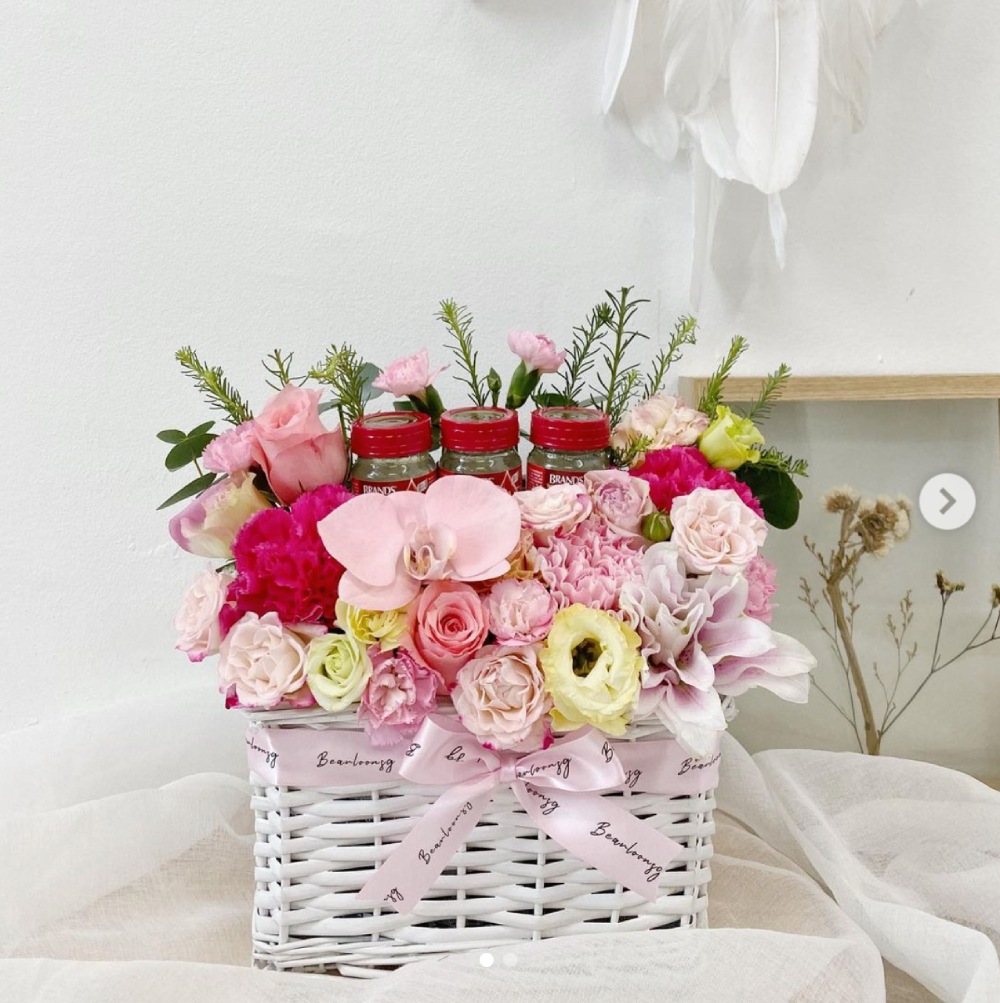 Source: BearloonSG
Know someone who's hospitalised or feeling unwell? Nothing says "Get well soon" better than a hamper with flowers to spruce up the home or room. Our wellness hampers come with health supplements like bird's nest and chicken essence, which will definitely be appreciated by your recipient.
Personalisation options available
There you have it! When you urgently need a present for an upcoming occasion or just want to surprise someone, simply order one of our flower hampers. The best part? You can customise the colours and flowers to go with your hamper gift, making it personal and memorable. Complimentary same-day delivery is available for all of our flower hampers. Shop with Bearloon today!