A marriage proposal is one of the most important moments of a couple's life. And with Valentine's Day just around the corner, it's the perfect time to start planning your special moment.
A proposal can be a nerve-racking experience, so it's important to plan ahead and make sure everything is perfect for your significant other. However, as we all know, planning a memorable wedding proposal requires both time and effort. But fret not! With some creativity and thoughtfulness, you can make it an unforgettable one!
How to Plan an Unforgettable Wedding Proposal?
If you're looking to take your special someone's breath away with the most memorable wedding proposal of all time, you need the right plan. This is because a well-crafted proposal can leave an indelible impression on the person on the receiving end of the proposal and is something that both of you will remember forever. And to help you out, we at BearloonSG have some useful tips to help you execute the perfect proposal.
1. Make it Personal
An unexpected, personalised gift for your special someone is another important part of a meaningful and memorable wedding proposal. To make sure you get it right, take the time to understand what gifts will make them feel special.
Source: BearloonSG – Keepsake Rose Bear [Red]
For example, if your girlfriend loves stuffed toys, you can start by researching different Valentine's Day gifts for her. This will give you a better idea of what will be appropriate for the proposal. Thereafter, you can narrow down the choices and pick one that will not only show that you care but also help capture the emotions both of you will be bound to feel when you get down on one knee. Consider gifts such as Rose Bears or a Surprise Floral Bloom Box. This will be a forever reminder of one another's love and commitment promised to each other on this special day.
2. Never Forget the Surprise Element 
There are no rules or limits on what type of creative surprise you can come up with; all that matters is that it's personal, authentic, and tailored to your partner's wants and needs. Adding a surprise element will not only make your proposal stand out in their memory but also fill them with pure joy and excitement as they witness an amazing gesture of love just for them. It will be a moment they'll never forget!
Source: BearloonSG – Fondness Bloom Box
And of course, don't forget the ring! Give your partner one of the best gifts that will last forever by choosing the perfect engagement ring. Choose wisely as it should reflect both of your personalities and complement their style. Most importantly, it should come as a surprise! If you'd like to take the "surprise element" up a notch, you could even consider placing your ring box in the middle of a floral bloom box like our Fondness Bloom Box from the Luscious Fiore collection.
3. Get Creative, and Always Include Flowers
Don't just get down on one knee and recite a prepared speech; be creative! As mentioned, one of the best Valentine's Day gifts is an unforgettable wedding proposal, so why not bring in the bloom box to commemorate the special occasion?
Putting a unique twist on the typical Valentine's Day tradition of gifting a bouquet of flowers, flowers in a box is a surefire way to sweep their partner off their feet — and pssst! a flower bloom box just might be easier for your partner to carry and show off their ring!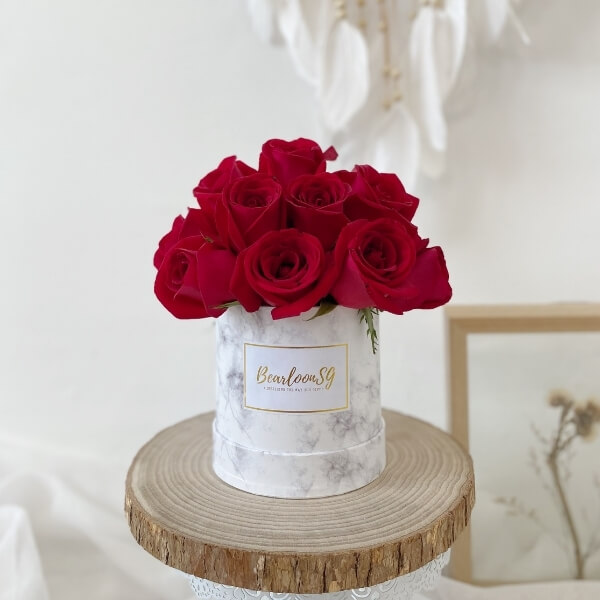 Source: BearloonSG – [Petite] Roses Bloom Box
Moreover, at BearloonSG, there are plenty of different bloom boxes to choose from, such as [Petite] Roses Bloom Box. But that's not all! You can even personalise these bloom boxes with your very own message to add a touch of thoughtfulness to your proposal.
Source: BearloonSG – Full Bloom Roses Hot Air Balloon
Big fan of the saying "Go big, or go home"? We are too! If a wedding proposal that turns heads and drops jaws is something you are going for, you can go all out too! With flash mob proposals and other forms of public proclamation of love still being in-trend, do not be afraid to go big — this also applies to the floral arrangement you are going for. Part of our wedding modern gift hamper collection, options like our Full Bloom Roses Hot Air Balloon are sure to make an impression. With a jumbo-sized hot air balloon filled with up to 45 roses being an option, make a splash without much effort with this floral hot air balloon!
4. Capture Everything
Making plans to capture every little moment of this momentous occasion is an important tip when planning a wedding proposal. So, whether you would like to seek the help of friends to take snaps as you pop the question or hire a professional photographer to film the entire event, just be sure that you'll have videos and photographs to remember your proposal years down the road.
5. Recreate a Special Moment
The best wedding proposals come with personal touches that show just how much you've thought about everything. If you're not great with words, write a poem or song and share it with your partner. Or take them out and recreate the same activities from your first date.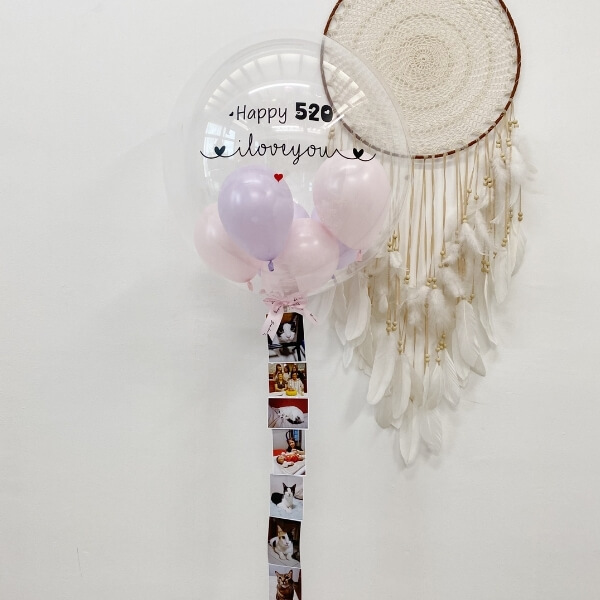 Source: BearloonSG – Photo Reveal Box
When choosing a present to gift your partner, consider items that are meaningful to you as a couple. While a bloom box is an excellent option for a romantic gesture on Valentine's Day, going for novelty gift hampers like our Photo Reveal Box will definitely take both of you down memory lane. Not only will it be aesthetically pleasing, but it also gives you the chance to create a memorable moment with your partner as you both reminisce on all the moments you've shared together.
Find the Perfect Wedding Gifts at BearloonSG
Planning a wedding proposal is no small feat. From finding the right spot and setting the mood to creating an unforgettable moment that your beloved will remember for a lifetime – there's so much to consider!
That's why finding the perfect wedding gifts designed just for couples in a similar situation as you, could be your saving grace. If you need a professional touch, BearloonSG offers unique gift hampers and floral gifts tailored to such occasions, allowing you to make your dream proposal a reality. We also offer timely wedding gift delivery services in Singapore so that you can capture your partner's heart when the moment feels right.
And since Valentine's Day is just around the corner, why not browse our extensive selection of Valentine's Day gifts for your girlfriend or boyfriend? Check out our delightful range of gifts for him and her to make this romantic day all the more special. And guess what? We offer Valentine's Day gift delivery all across Singapore too!