Valentine's Day has long been recognised as one of the most popular holidays around the world, particularly amongst loved birds. Deemed to be the ultimate day of love that transcends any religion or faith, Valentine's Day is the perfect time for couples to show their appreciation for each other in a meaningful way. Bringing a sense of joy and warmth, this is a day when friends, family, and couples can show their love for each other through traditional gifts such as chocolates, flowers, cards, or other special alternatives like an evening out at a romantic restaurant. No matter how one celebrates their love for the other, this holiday is all about appreciating each other's presence in their lives.
But other than the fact that it's celebrated on the 14th of February annually, are there any other interesting facts you know about Valentine's Day? Fret not! We at BearloonSG have you covered with all there is to know about this romantic holiday.
What is the Real Story of Valentine's Day?
Valentine's Day may be associated with romance but believe it or not, the vague and mysterious origins of this holiday where lovers express their affection for each other are far less romantic.
One common theory is that Valentine's Day is associated with the saints named Valentine. They had initially performed various heroic acts that made them martyrs. However, they were later beheaded for performing illegal marriages for young lovers in secret. The name "Valentine's Day" was thus assumed to be born in remembrance of these sympathetic, heroic, and romantic figures. But as mentioned, for a holiday this old, the real story behind it is difficult to determine as facts and legends have somehow converged with time.
When is Valentine's Day Celebrated?
While many might know that Valentine's Day is celebrated around the world on the 14th of February, the significance of this date is less known.
One fact worth knowing is that this is the date when the Romans honoured the goddess of marriage, Juno. However, different regions have different beliefs as to why Valentine's Day is celebrated on the 14th of February. For example, in France and England, the bird's mating season is believed to fall on this day. As such, many assumed that this would be an apt time to dedicate a day to romance.
But besides the significance behind the 14th day of February, did you know that the entire month of February is one that brings much excitement and anticipation amongst lovers? This is because the so-called "Valentine's Month" starts on the 7th of February!
What Are the 7 Days of Valentine?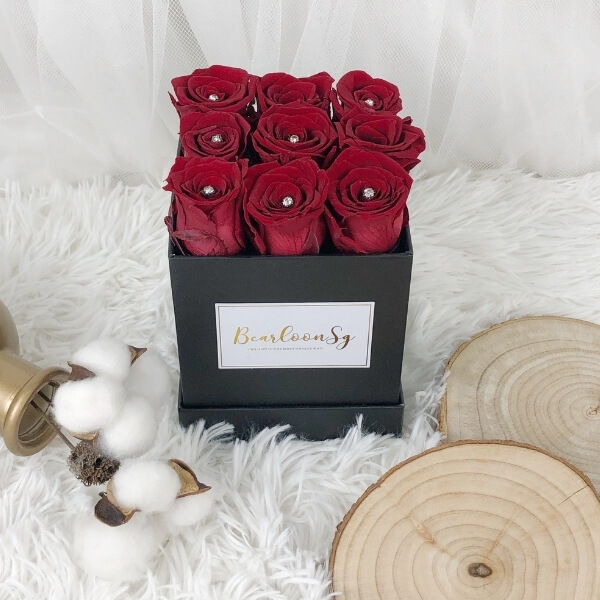 Source: BearloonSG – Everlasting Diamanté Red Bloom Box
Contrary to popular belief, Valentine's Day is not something that is celebrated on one single day in the entire year. On the 7th of February, Rose Day is celebrated, signalling the beginning of Valentine's Week. As its name suggests, Rose Day is when couples surprise their lovers with a bouquet of roses like our [33 Roses] Eternal Love – Red Rose Bouquet. This act promises to bring freshness and everlasting beauty into their relationship. But if you would like to put a twist to this tradition, you can always go for preserved roses as seen in our Everlasting Diamante Red Bloom Box that will aptly capture the everlasting love you have for your partner.
Then, on the 8th of February, Propose Day is celebrated, followed by Chocolate Day on the 9th. The former is meant for proposals while the latter is a day dedicated to letting partners know how sweet they are.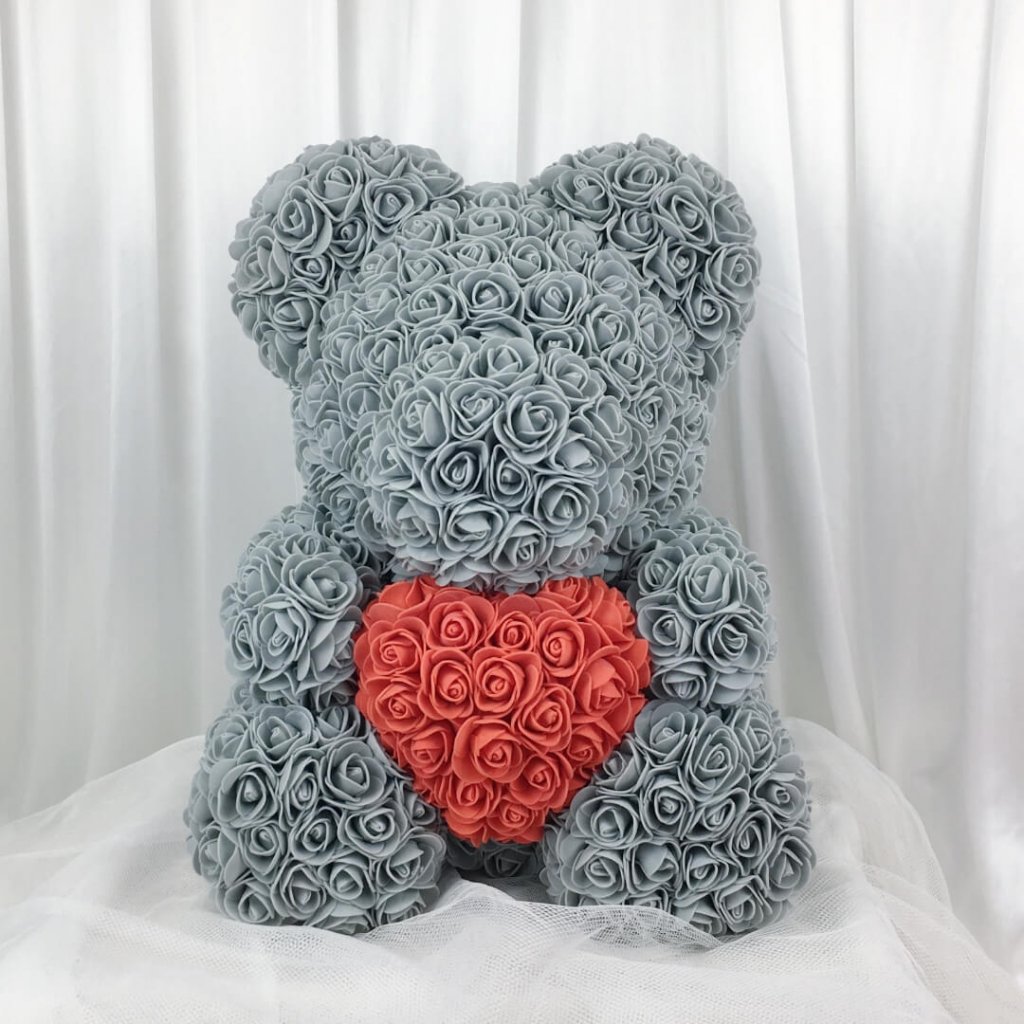 Source: BearloonSG – Keepsake Rose Bear [Grey with Heart]
On the 10th of February, Teddy Day is celebrated to reminisce on childhood memories. And if you are looking for a gift that captures the essence of both Teddy Day and Valentine's Day, look no further than our collection of Keepsake Rose Bears. Made with foam roses that will last a lifetime, relive your favourite childhood and romantic memories with your loved one in an adorable way.
The 11th is Promise Day, signifying the importance of commitment. The 12th of February is known as Hug Day, which commemorates the warm act of expressing love and care, while the 13th is known as Kiss Day. And finally, the 14th of February needs no introduction!
How is Valentine's Day Celebrated?
Here's the thing about this special holiday — you can celebrate it however you like! Typically, Valentine's Day is celebrated by sending heartfelt letters, sending Valentine's gift hampers filled with sweet treats like chocolates, having a dinner date at a posh restaurant, and of course, gifting your loved one a bouquet of flowers. In various parts of the world, traditions may vary too!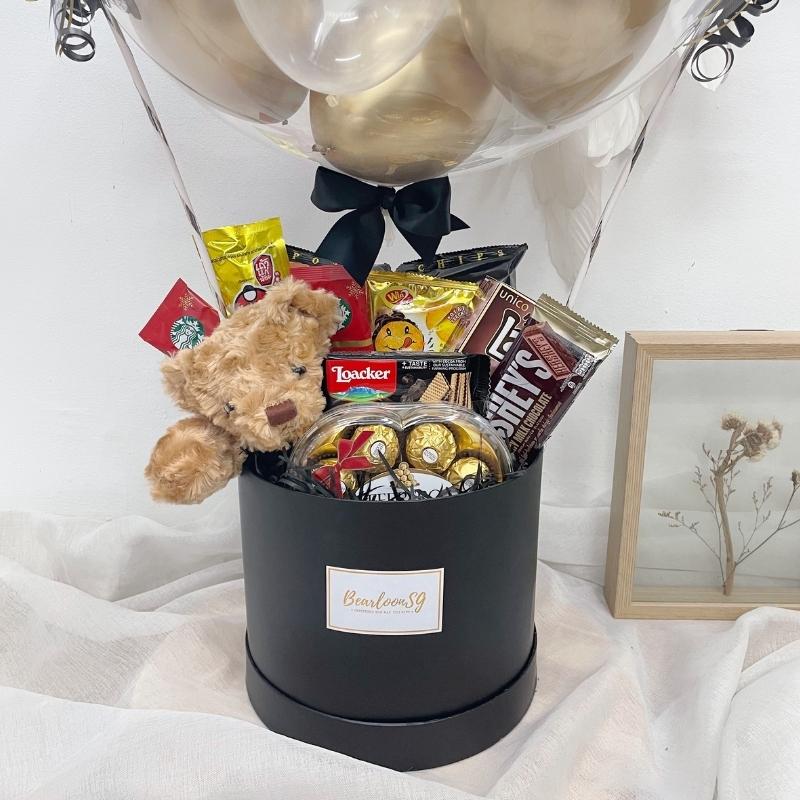 Source: BearloonSG – Gourmet Hamper [For Him]
For example, in Ghana, the 14th of February is known as "Chocolate Day". Ghanaians celebrate both love and the craze for chocolate by not only consuming an abundance of chocolates with loved ones but also attending music events and performances to revel in the magnificence of all that unconditional love can offer. If that sounds like a party you would like to be a part of, consider getting a chocolate-filled gourmet hamper like our Gourmet Hamper [For Him] that is packed to the brim with cacao sweets and treats. Pump up the music on your date, and you are bound to have an epic Valentine's Day celebration like the Ghanaians.
Source: BearloonSG – A Toast to You Gourmet Hamper
On the other hand, in countries like Bulgaria, Trifon Zarezan Day is celebrated — a day dedicated to wine and feasting. This makes gourmet gift hampers like our A Toast to You Gourmet Hamper from our wine and beer hamper collection the perfect way to partake in the saccharine love fest.
What Will be the Best Gift for Valentine's Day?
Valentine's Day is celebrated as a way to express love and affection towards others, especially those who have played a significant role in your life. Dedicated to celebrating romantic relationships, it serves as a reminder to take a moment to appreciate the people we care about, regardless of who they might be. Therefore, there should be no limits to the type of Valentine's gift ideas you come up with since they should all carry the same emotion.
For many, it's about going out on romantic dates or having quality time together, reinforcing love through shared experiences. For others, choosing the best Valentine's Day gift involves the utmost consideration of what their partner genuinely wants.
But rest assured, whatever Valentine's Day gift you get for the special him or her in your life, we guarantee that the simple act of gifting will reinforce trust within your relationship and deepen the bond you share.
Celebrate Love with BearloonSG
With all this insight into Valentine's Day as your guide, you're now fully equipped with the knowledge to plan an epic Valentine's Day date with your loved ones.
And if you're looking for the best Valentine's Day gifts for your girlfriend or boyfriend, check out BearloonSG's collection of Valentine's Day gifts curated specially for 2023. Forget searching "best Valentine's Day gift ideas" online, and simply browse our extensive selection of floral bloom boxes, keepsake rose bears, and more. Celebrate this romantic day with us and cart out with your favourite gift hampers or flower bouquets online and enjoy free same-day delivery across Singapore for all orders placed before 2.30PM.