If you are looking for unique Christmas gifts to surprise your friends and loved ones, this guide is for you. Keep reading to get inspiration for gift-giving during this jolly season! 
1. Christmas Hampers
Treat your loved ones to a gastronomic experience with these beautiful Christmas Gourmet Hampers. 
Source: BearloonSG
Packed to the brim with festive goodies like chocolates, wine and cookies, and decorated with a lovely Christmas-themed hot air balloon, these hampers are a feast for both the eyes and the stomach. If your recipient has a sweet tooth, this will be the perfect gift. 
2. Christmas Floral Gifts 
Know of someone who fancies flowers? Consider the Christmas Hot Air Balloons. Featuring a unique 3D Christmas-themed hot air balloon on a delightful bed of fresh flowers, this floral gift will put anyone in a jolly mood. 
Source: BearloonSG
If you'd like your Christmas gift to have an extra touch, the Christmas Bloom Box is for you. Apart from a fresh floral arrangement, your recipient will also appreciate the thoughtful bottle of wine that comes with it – perfect for toasting to a wonderful Christmas!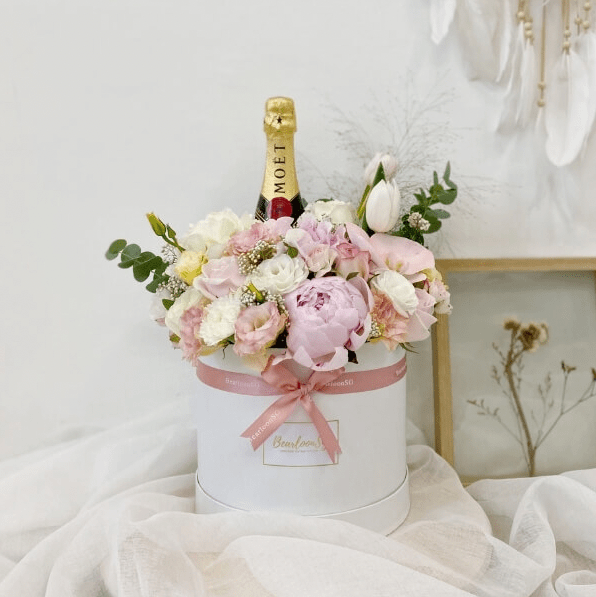 Source: BearloonSG
These bloom boxes are available in two options – you may opt for either Moët & Chandon champagne or Moscato wine. 
3. Christmas Baubles 
While Christmas gifting is a joyous occasion, it can be stressful on the wallet, too. This is especially true if you have many recipients on your gifting list. No worries, because we've got you covered for that. If you are looking for wallet-friendly, personalised gifts for friends and family, we recommend these Christmas Baubles. Every acrylic bauble contains a miniature gift item, and you have three options to choose from: perfumes, snacks and screen cleaners.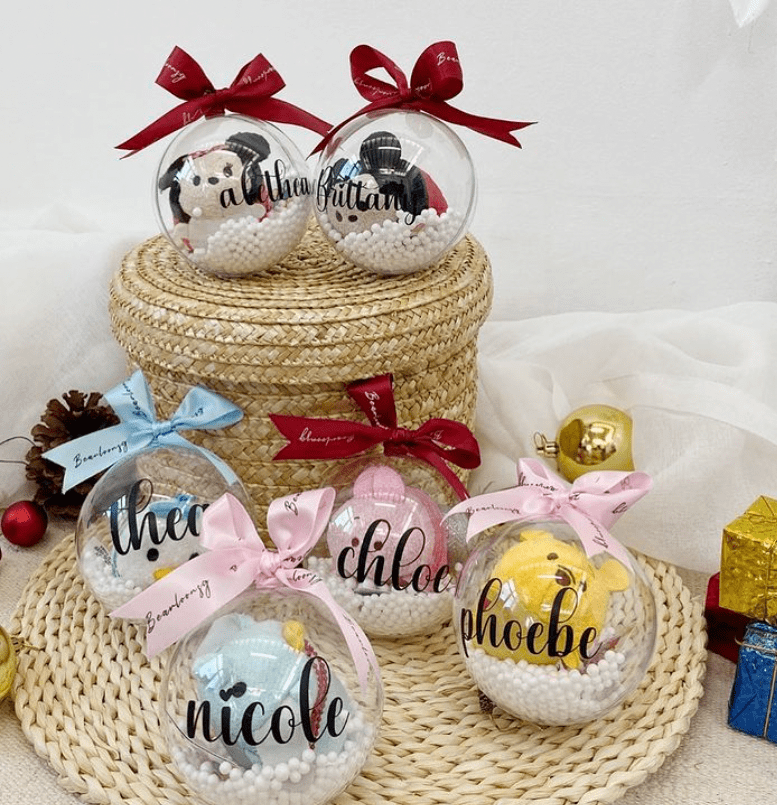 Source: BearloonSG
That's not all – you also have the option of customising each item further. For example, if you have chosen the Miniature Perfume Baubles, you get to select the type and brand of perfume to go into each bauble. Take your pick from seven options: Incanto Shine, Incanto Bloom, Marc Jacobs Daisy Dream, Bvlgari Omnia Crystalline, Burberry Brit Sheer, Burberry Brit for Him and Mont Blanc Legend. With so many choices available, you can select the perfume that best suits your intended recipient without having to worry about your gift going to waste.
Source: BearloonSG
The personalisation doesn't stop there – every acrylic bauble is also fully customisable with the intended recipient's name or a personalised message. 
Available in affordable bundles, these Christmas Baubles are perfect if you are looking to bulk purchase gifts for your colleagues or team. 
4. Christmas Helium Balloons
For a fuss-free yet unique gift, you will not go wrong with our personalised Christmas Helium Balloons. These balloons are available in a variety of festive themes, including Santa Claus, Christmas Tree and Candy Cane.
Source: BearloonSG
If you are looking for some Christmas-themed decorations to liven up your home this festive season, these Christmas helium balloons will do the trick perfectly. 
Make Christmas Gifting Memorable With BearloonSG's Santa Delivery Service
To take the gifting experience up a notch, we will be launching a special Santa Delivery Service for our Christmas gifts. Between 13 – 25 December, your recipients can look forward to receiving their gifts from Santa Claus himself – talk about a truly pleasant surprise! Limited slots are available, so you are encouraged to send in orders early to avoid disappointment. 
Are you inspired yet? Get started on your Christmas shopping with BearloonSG today! All of our products, including helium balloons, come with complimentary same-day delivery and plenty of customisation options (additional costs may apply). If you need any assistance, please reach out to us!