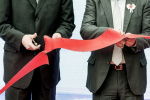 Celebrating the grand opening of a new business is a significant event that warrants a grand gesture. And one of the best ways to demonstrate your support is by sending a beautiful flower stand designed with opening ceremonies specifically in mind. However, with several options to choose from, selecting the perfect flower stand for a grand opening can be a daunting task. But fret not! In this blog, we at BearloonSG share three essential factors to consider that will help you make an informed decision.
1. What Kind of Flowers Are Suitable for a Grand Opening Ceremony?
The choice of flowers for a grand opening is an important one, as different flowers can symbolise different things. For instance, peonies symbolise wealth and, on special occasions, act as an expression of best wishes and joy. Lilies, on the other hand, represent purity and new beginnings. Therefore, when choosing flowers for a grand opening, it's important to consider the message that you want to convey and choose accordingly.
What are the Auspicious Flowers to Consider for Opening Ceremonies?
Not sure what flowers to have included in your flower stands for an opening ceremony? Peonies, roses, and lilies are great options for a grand opening ceremony. Peonies are particularly popular because, as mentioned, they symbolise prosperity and good fortune, making them the perfect choice for a new business venture.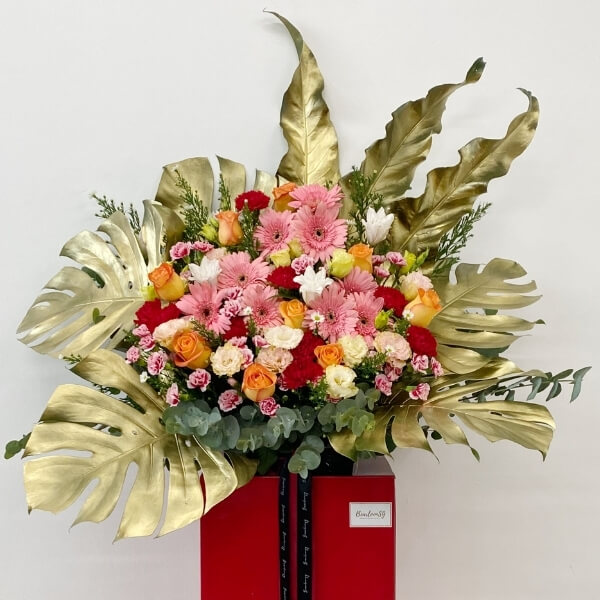 Source: BearloonSG – Golden Success
With their timeless beauty, Roses are also a great option as they symbolise love and admiration. For example, our Golden Success congratulatory flower stand boasts a stunning arrangement featuring vibrant oranges, symbolising energy and enthusiasm!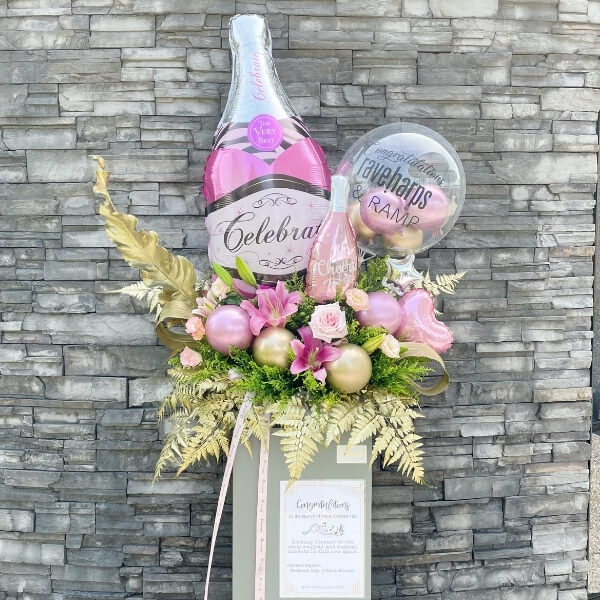 Source: BearloonSG – Celebrate Champagne Congratulations Stand
Lilies, as seen in our Celebrate Champagne Congratulations Stand, are another great choice as they represent new beginnings and purity.
2. Your Budget
Your budget is the next factor to consider when choosing a flower stand for an official grand opening. While it's tempting to go all out and choose the most extravagant option available, it's important to choose something that is within your means. So, set a budget and work within it when choosing a flower stand — we guarantee that you will be able to find a grand opening flower stand that is both beautiful and affordable.
3. The Theme of the Shop
Source: BearloonSG – Blooming Success Congratulations Stand
The theme of the shop is another important consideration when choosing a flower stand for a grand opening. The grand opening flower arrangement should complement the overall aesthetic of the shop and reflect its branding. For instance, if the shop has a minimalist and modern aesthetic, a simple and elegant flower stand like our Blooming Success Congratulations Stand would be a great fit.
Get Flower Stands for Opening Ceremonies from BearloonSG
Choosing the right flower stand for a grand opening can be a daunting task, but by considering the right flowers, your budget, and the theme of the shop, you can make the right choice. And with BearloonSG's range of beautiful flower stands, you're sure to find the perfect one for any occasion.
At BearloonSG, we offer a wide range of flower stands that are perfect for grand openings. From elegant and classic designs to more extravagant options, we have something for every occasion and budget. Moreover, our flower stands are made with the freshest and most beautiful flowers, ensuring that they are both stunning and long-lasting.
Whether you're looking for grand opening flowers in Singapore or congratulatory flower stands, we have you covered. With our convenient online ordering system and free same-day delivery across Singapore for all orders placed before 2.30PM, you can send a beautiful gift of choice straight to the recipient's doorstep.
Show your support and congratulations in the most meaningful way possible with a stunning flower stand from BearloonSG today!