Your loved one's birthday is fast approaching, and you've looked high and low for that perfect birthday gift but to no avail. You also know that you're running out of time and need to decide on a gift ASAP. Before you throw in the towel in despair, here are six effortless yet unique balloon gift ideas that you'll wish you knew about sooner. Keep calm and keep reading! 
1. Novelty Gift Hamper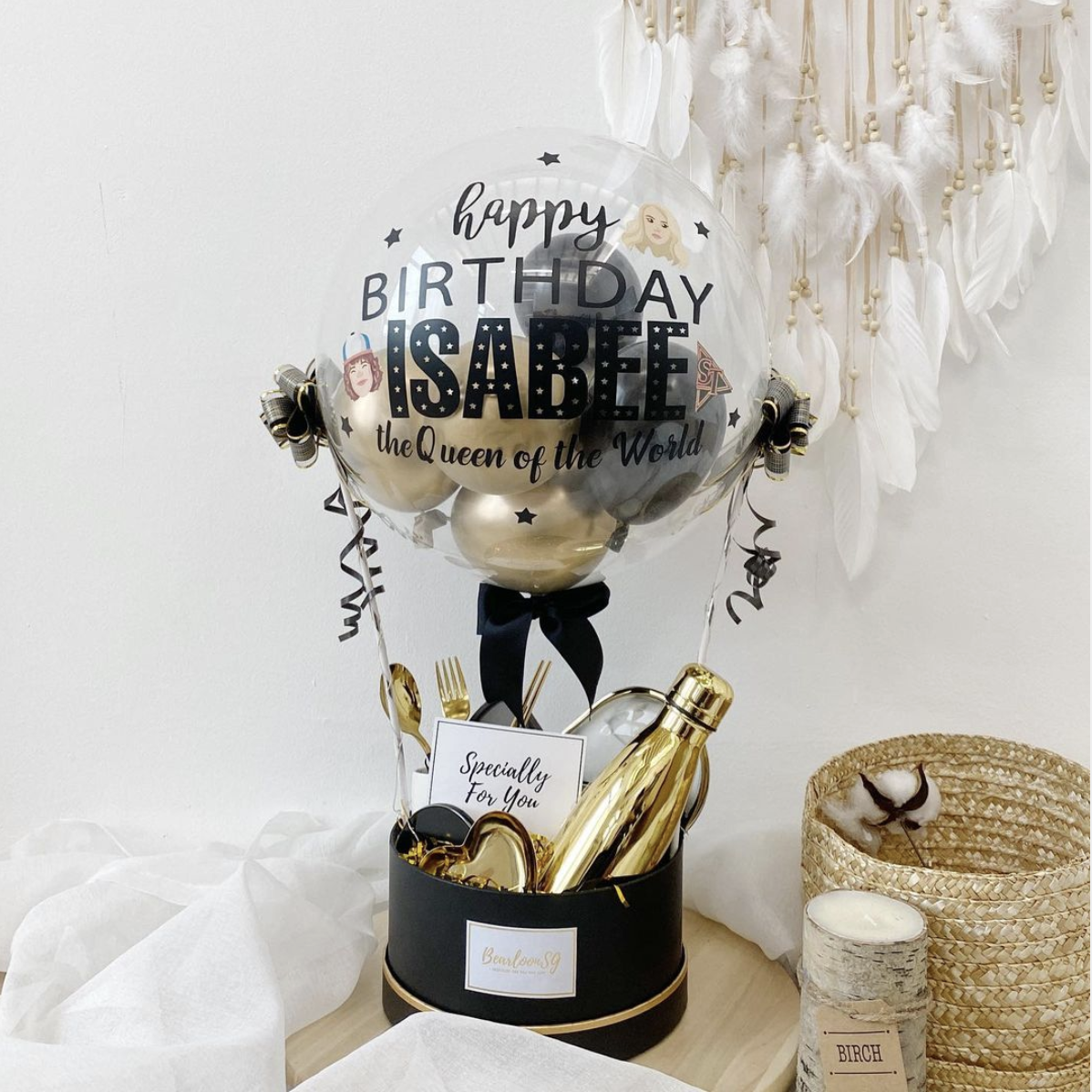 Source: BearloonSG
Nobody enjoys the prospect of having their gifts forgotten in a corner somewhere, or worse, discarded for being of no use to the gift recipient. To avoid that undesirable situation, consider our Novelty Gift Hamper. Featuring a gorgeous hamper filled with everyday items like tumblers, utensils and vanity items, our Novelty Gift Hampers make for a thoughtful yet practical gift that your recipient will definitely appreciate. 
2. Money Hot Air Balloon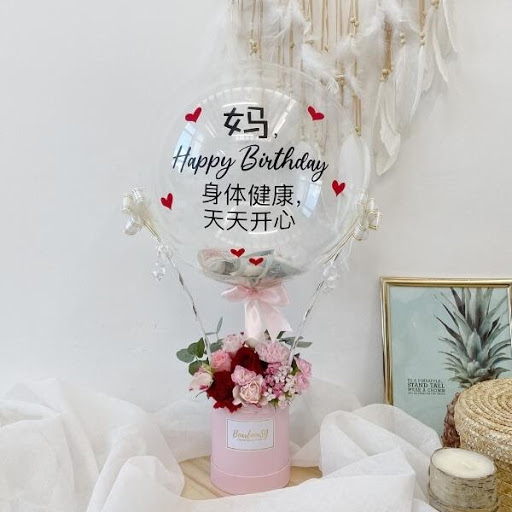 Source: BearloonSG
Ranking high on our list of quirky and practical gifts is the Money Hot Air Balloon. Featuring cash concealed in a customisable see-through hot air balloon perched atop an elegant flower bouquet, we think that it's a brilliant and creative way to gift birthday money. Time to ditch those traditional money packets and watch your giftee's eyes light up upon receiving this refreshing gift!  
3. Floral Hot Air Balloon 
Source: BearloonSG
This one is for flower lovers – our Floral Hot Air Balloons come in an extensive range of fresh floral arrangements and colour themes. From a sweet combination of lilac carnations and pink and yellow roses to a classy fusion of cappuccino-toned roses and rustic fillers, there's something for everyone. 
For those who prefer preserved floral arrangements, the Everlasting Floral Hot Air Balloon is for you. We love preserved flowers for a couple of reasons – apart from being just as aesthetically pleasing as fresh flowers, preserved flowers can last for much longer, which means that your gift can likely double up as an everlasting floral decoration and a gift to remember! 
4. Snack Box Hot Air Balloon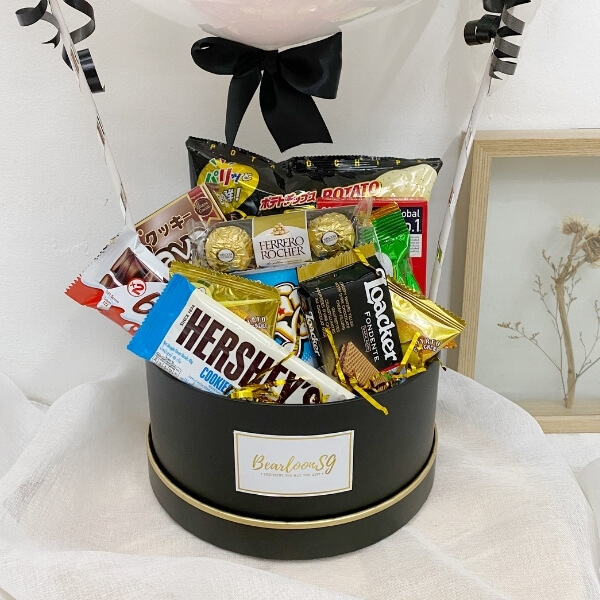 Source: BearloonSG
You just cannot go wrong with our crowd favourite, the Snack Box Hot Air Balloon, because who could resist the temptation of delicious snacks? Filled to the brim with yummy goodies and available in Petite, Regular and Jumbo sizes, our Snack Box Hot Air Balloon will put a smile on even the pickiest of gift recipients. 
If your giftee has dietary restrictions, no worries – simply indicate them in your order and we will customise the snack box accordingly. 
5. Moët Floral Hot Air Balloon
Source: BearloonSG
If your giftee is a champagne lover, you absolutely must not miss out on our Moët Floral Hot Air Balloon. You can choose between two sizes for your hot air balloon: Petite or Regular. The Petite option comes with a 200ML Moët & Chandon Mini Champagne, while the Regular option comes with a 750ML Moët & Chandon Brut Imperial Champagne – perfect if you need an excuse to round of the day of celebration with a drink or two with the birthday boy/girl. 
6. Personalised Balloon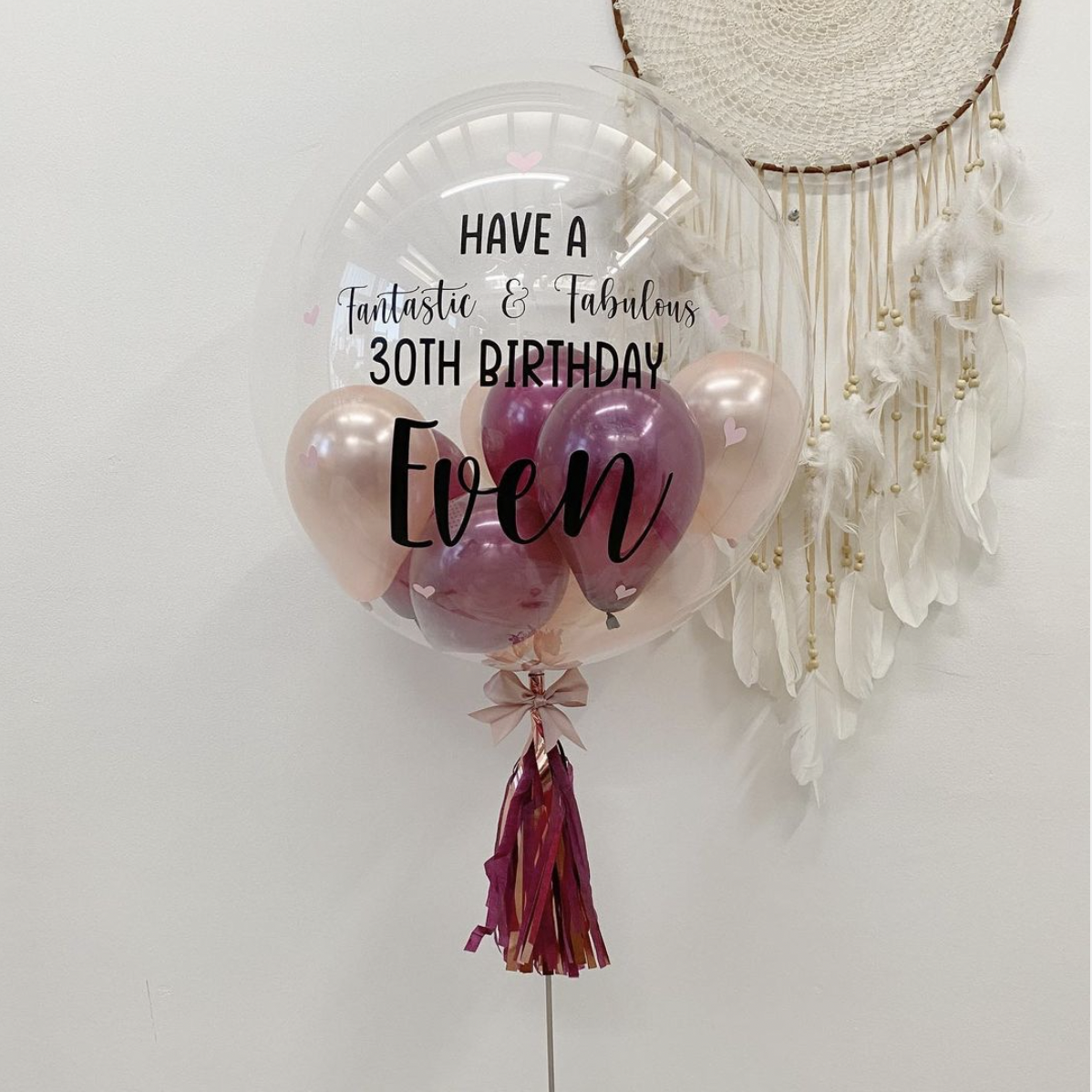 Source: BearloonSG
If your gift recipient prefers a no-frills kind of birthday celebration, go back to the basics and get them a personalised balloon. Featuring a helium bubble balloon filled with mini balloons, our personalised balloon is a truly fuss-free way to send someone your birthday wishes. 
What's more, the colours of the mini balloons are fully customisable. So, go ahead and pick out your giftee's favourite colours or match them with the colour theme of the birthday party. You can even request a specific design theme for the balloon, such as having unicorns and heart shapes printed all over if your giftee fancies that!
All ready to pick out the best birthday gift for your loved one? Browse Bearloon SG's gift catalogue now. Bearloon SG also offers complimentary same-day delivery within Singapore and many unique customisation options (additional charges may apply).