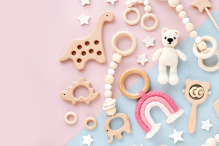 Bringing along a gift to a baby shower is not just good etiquette, but also a thoughtful gesture to the new parents. After all, the start of parenthood may be tough to navigate, and new parents will appreciate any support that they can get. 
Gifting a newborn may appear to be easy enough, but choosing the appropriate gift can be a tricky process. For starters, you don't want your gift to end up donated or re-gifted, or worse, left untouched in a forgotten corner. So, how can you go about choosing the perfect baby shower gift? 
Before you start shortlisting potential gifts, you will want to consider the baby's gender, parents' needs and the baby's needs. You may also want to check in with other parents on the types of gifts that would be useful for the newborn and their parents.
Generally, you cannot go wrong with practical gifts like clothes, rattles and blankets. You can also consider items that are beneficial to the baby's development, such as rattles and plush toys. Make sure to set aside enough time to browse and shortlist gifts to avoid the last-minute rush!  
Here are a few baby shower gift ideas that will come in handy when you're shortlisting gifts: 
1. Signature Newborn Hamper 
Source: BearloonSG
Our signature newborn hamper comes with practical yet adorable items that both the parents and baby will appreciate. Here's what you can expect to find in a signature newborn hamper: 
Personalised infant wear:

There's no better way to add your unique touch to the gift than

personalising it

. All of our baby hampers come with baby rompers that can be personalised with the newborn's name. What's more, it comes with matching crown printed mittens, a beanie and a bib. If you're looking for something that's practical, unique and chic, this is it. 
Plush toys & baby accessories:

You will also find items like bunny plush, bunny rattle and teethers that will help babies develop motor skills and hit their developmental milestones. 

Swaddling blanket:

Another newborn essential item is the muslin swaddling blanket. Swaddling is the practice of gently wrapping the baby securely in a blanket with only their head peeking out. This practice allows a baby to feel safe, as though they are still inside the womb. It can also serve to calm a newborn baby and improve sleep. 
2. Newborn Hamper with Flowers 
Source: BearloonSG
If you want to include fresh flowers in your baby shower gift, consider our newborn hamper with flowers. It contains all of the practical baby essentials included in the signature newborn hamper, as well as a fresh flower arrangement that will add a lovely touch to your gift. What's more, you will be able to choose your preferred flowers (subject to availability and additional cost). 
Some popular flower choices for newborns include hydrangeas, gerbera daisies, carnations and roses. You can also choose flowers according to the gender of the baby – for example, pink, purple and pastel shades are a great choice for baby girls, while blue and yellow blooms will be suitable for baby boys. 
3. Newborn Hamper with Birdnest 
Source: BearloonSG
Show your appreciation and support for the new parents with our newborn hamper with birdnest. Becoming new parents and having to care for a newborn is no easy feat, so some nourishing birdnest will certainly be welcomed as gifts. 
4. Newborn Hamper with Chicken Essence 
Source: BearloonSG
Our newborn hamper with chicken essence is another heartwarming option that will be appreciated by new parents. 
After deciding on the gift, don't forget to pen your well-wishes to the new parents. Here at Bearloon, all of our gifts come with the option of adding your personalised message for the recipient. Read this if you'd like some inspiration for what to write on the greeting card. 
Ready to start gift shopping for a baby shower? Browse Bearloon's personalised newborn hampers now.